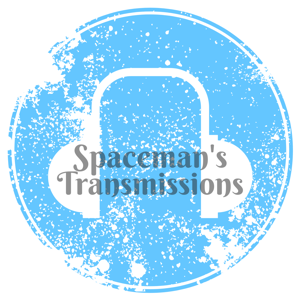 Greetings, voyagers. Today we'll undertake an eventful journey that is geared towards getting our minds properly adjusted for creativity and peace. All I ask you for, dear listener, is just roughly an hour of your time. If possible, the use of headphones or ear buds is recommended to separate the existing physical world (which can at times deliver too much chaos and disruption) from the cerebral world. It is within this cerebral world that you will realize your potential and emerge from your cocoon with reestablished purpose and clarity. You might not realize it, but this small space between your ears holds a galaxy that is unique and vibrant. Feed it with food of color and sound.----more----
The caring 24-7 staff at Spaceman's Transmissions have worked diligently on this session, ensuring that it is calibrated to the highest degree. We understand that this can be a continuous process, and therefore have designated this first journey as 'Vol. 1'. More required sessions will follow points in time with each session beginning where the last one left off. The sessions will be sporadic and unannounced.  Always be ready.
Find your peace within this turbulent world, and take in the new vibes that are presented in this colorful aural package. When you need to escape the physical world and its taxing requirements, please rest assured that this session will always be here to guide you into a new world of solace and comfort. This underlying sentiment is the basis of our mission statement. 
Turn on, tune in, sleep...
http://ambient-transmission.blogspot.com
www.facebook.com/tonepoetmusic