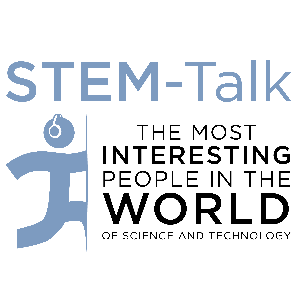 Episode 73: Michael Okun talks about the complexity and treatment of Parkinson's disease
09.25.2018 - By STEM-Talk
Nearly 60,000 Americans are diagnosed with Parkinson's disease every year in the U.S. The disease is an incredibly complex disorder that affects more than 10 million people worldwide.
Our guest today is Dr. Michael Okun, who is considered the world's foremost authority on the treatment of Parkinson's.He is the Adelaide Lackner Professor and Chair of Neurology at the University of Florida Health College of Medicine as well as the co-director of the university's Fixel Center for Neurological Diseases. The center is known for its interdisciplinary faculty that provides a one-stop, patient-centered clinical research experience that attracts patients from around the world.
Since 2006, Michael has been the National Medical Director for the Parkinson's Foundation and works very closely with a wide range of organizations such as the Michael J. Fox Foundation. The American Society for Experimental Nuerotherapeutics recently awarded Michael the 2018 Presidential Award.  In 2015, he was recognized during a White House ceremony by the Obama administration as a "Champion for Parkinson's Disease."
Michael also is an accomplished writer with more than 400 peer-reviewed articles and even a book of poetry.
In today's episode, we discuss:
* [00:17:56]What Parkinson's disease is and the wide range of symptoms that can arise as a result of the disease.
* [00:29:19] How Parkinson's disease is diagnosed since there is no specific test that can diagnose the disease.
* [00:32:11] The common risk factors associated with neurodegenerative disease.
* [00:38:20] The actor Alan Alda's recent announcement that he has been living with Parkinson's for more than a year.
* [00:41:04] A UCSF study that looked at the prevalence of Parkinson's among veterans who had experienced traumatic brain injury.
* [00:46:32] Treatments that are available for Parkinson's.
* [00:55:57] The cognitive, behavioral and mood effects of deep-brain stimulation.
* [01:17:11] The potential use of brain prosthetics or orthotics in patients with neurological disease.
* [01:29:26] Whether Parkinson's therapy is moving toward local, systemic or a combination of the therapies.
* [01:31:48] The relationship between metabolism and nutrition and the progression of Parkinson's disease.
* And much more. 
Show notes:
[00:02:53] Michael begins the interview taking about growing up in West Palm Beach, Florida, and his love of baseball and collecting baseball cards.
[00:03:39] After high school, Michael decided to attend Florida State University and focus on a liberal arts education. Dawn asks Michael if it's safe to assume he wasn't thinking about medical school when he started college.
[00:04:53] Dawn asks Michael how a history major ultimately decides to become an MD.
[00:06:18] Ken asks Michael to elaborate on a funny story about how he ended up going to the University of Florida for medical school.
[00:10:10] Michael talks about how went to med school thinking he wanted to be a black-back family practitioner, but became so interested in neurology that he changed his mind.
[00:13:06] Ken mentions that during Michael's time at Florida, he became fascinated by what was going on in the brain of people who had tremors. Ken asks Michael if that is what led him to focus on Parkinson's disease during his postdoc at Emory?
[00:17:56] Even though most people are familiar with images of people like Michael J. Fox and Mohammed Ali who have tremors, most people aren't aware that Parkinson's has a wide range of symptoms, which makes it an incredibly complex disease. Michael gives an overview of Parkinson's and the various symptoms that can arise as result of the disease.