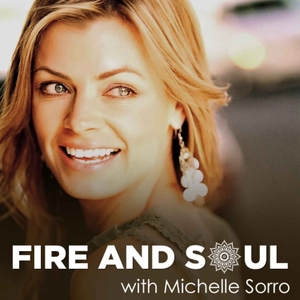 For everyone out there who's been a listener of this podcast, even if you're brand new to Fire & Soul, connecting with you, my audience, brings me so much joy! So today, I want to get personal and share more of myself with all of you out there.
Having had the opportunity to connect with you so intimately and authentically each week means that you always know what's on my mind. But, there are so many other elements of my life that come together to shape "Michelle Sorro". Today, I want to share those day-to-day building blocks that make up who I am. And, I'm willing to bet we'll have a lot in common! 
In this episode, I'm sharing all of my favorite things, from books, to movies, to my favorite foods. There are brilliant podcasts and incredible mentors that I want to be sure you know about, because if they helped me, they just might be meaningful for you too!  I'm also going deep and sharing my favorite vacation I took a few years ago, and how those three weeks made such a profound impact on my life and growth. 
This week, I'm sharing all of my favorite things. Are you ready to get personal? 
In This Episode You Will Learn: My very specific sleep regimen (3:07)My most recent food obsession (8:15)The people and podcasts that have changed my life (10:21)The music that moves me (16:01)My favorite books of all time (18:00)Guilty pleasures: movies and Netflix (22:10)How I invest in my growth (26:26)The trip of my lifetime (29:18)
People Mentioned in this Episode: Nancy Meyers Tony Robbins Jack Canfield Panache Desai Evan Mark Katz Jairek Robbins Reverend Michael Beckwith Mary Morrissey Jean Houston Matt Boggs Dalai Lama
Podcasts Mentioned in this Episode: Amy Porterfield: Marketing Made Easy James Wedmore: The Mind Your Business Podcast Kathrin Zenkina: The Manifestation Babe Abraham Hicks Rampages and Meditation Abraham Hicks NEW Conversations With Abraham Hicks Alec Baldwin: Here's the Thing Lewis Howes School of Greatness Jay Shetty: On Purpose Brene Brown: Unlocking Us
Books Mentioned in this Episode: The Untethered Soul by Michael A. Singer The Velveteen Rabbit: Or How Toys Become Real by Margery Williams The Little Soul and the Sun: A Children's Parable Adapted from Conversations with God by Neale Donald Walsch The Other End of the Leash: Why We Do What We Do Around Dogs by Patricia McConnell, PhD You Can Heal Your Life by Louise L. Hay
TV & Film Mentioned in this Episode: Notting Hill The Family Man The King's Speech Schitt's Creek Ted Lasso Bridgerton Real Housewives of New York City Real Housewives of Beverly Hills Real Housewives of Orange County
Resources:  My FREE Masterclass: How to Master Zoom and Live Video Sales Like a Pro Free Masterclass Sferra Luxury Bedding  Mountain Valley Spring Water Amy Porterfield's Digital Course Academy James Wedmore's Inner Circle Mastermind Course Michelle's Date with Destiny Spotify Playlist See acast.com/privacy for privacy and opt-out information.