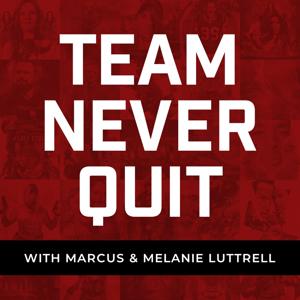 Mike Ettore: Retired Marine Corps Infantry Officer & Decorated Combat Leader and Founder of Fidelis Leadership Group
03.23.2022 - By Team Never Quit
This week's incredible guest – Mike Ettore – knows the way, and shows the way. Being the exceptional leader that he is, Mike became the youngest Drill Instructor in the Marine Corps at the age of 20. There's not a personal or professional challenge he can't overcome.
Mike's effective combat leadership style resulted in numerous awards and decorations during his career, including the Bronze Star Medal for Valor (with Gold Star denoting 2nd award) and the Combat Action Ribbon (with two Gold Stars denoting 2nd and 3rd awards).
These days, his purpose is to teach, coach, and help leaders develop - while he's alive and after he's gone.
In this episode you will hear:
I graduated from my first recruit platoon when I was 20.
The Marine Corps trusted me and I tried very hard to live up to that trust.
I spent my whole career trying to live up to the legacy of the Marines in World War I.
If there's something the Marine Corps does well is it teaches and honors its history and traditions.
We were considered by the battalion commander, to be the strongest lieutenant/staff sergeant team in the battalion. It's all about trust
I was more excited about being an equally good leader in business as I was in the Marine Corps.
Pre 9-11, I was dragging an AR-15 in a case through the airport.
I was a C-level officer in charge of most of the back office of the non-sales function for a billion-dollar company, with no expertise in any of it. I wasn't really sure how to save a file.
I teach and coach senior executives in the art & science of leadership.
I'm 65 years old and have unlimited energy. I just love it.
At 65 years old, with over 45 years of teaching leadership, I still learn something every week. I ask myself: "How in the hell have I gone this long and never heard that?"
I am vain enough that to think that 25, 50, 80 years from now - if somebody picks my book up,  the Iwo Jima lessons, the Grenada lessons, and the business lesson I've learned, just might help out my great, great-grandson or daughter, who never met me.
[In life] I was mostly right, somewhat wrong, or completely full of shit
[Conversation with son] just because it comes out of my mouth doesn't automatically mean that it's bullshit. As you get older, you're gonna find yourself becoming me.
Dale Carnegie: "A man who dies rich dies disgraced."
I'm never gonna have Andrew Carnegie money, but I've got a laptop and a thumb drive. Everything that's up here [in my head] is gonna be out.