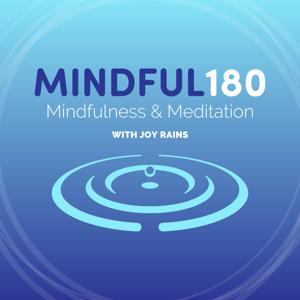 What's Mindful 180 about?
Welcome to Mindful 180, hosted by speaker and author Joy Rains. This podcast is tailored for the beginning meditator, with clear instructions and meditation techniques that are simple to practice. Joy teaches "restorative meditation," which blends mindfulness concepts from different traditions and can help restore the mind to a balanced state.
Each episode begins with a brief introduction, followed by a guided meditation or visualization. Mindful 180 will cover topics such as relaxation, stress relief, present moment awareness, positive thinking, mindfulness in daily living, healing, visualization, affirmations, well-being, compassion, gratitude, peacefulness, and more.
If you find value in this program, please consider sharing on social media or making a donation via PayPal to [email protected].
Please note: The content on this podcast is not intended as medical advice and may not be suitable for everyone. Please check with your health care provider before implementing any changes in your lifestyle habits. Meditation should not be done while driving or while engaged in any activity that requires your attention.
Mindful 180 is brought to you by Whole Earth Press, a small publishing company dedicated to offering publications that can help heal the whole person, whole communities, and the whole earth.