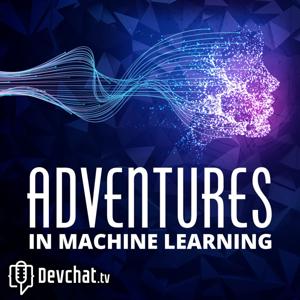 Peter Elger and Eóin Shanaghy join Charles Max Wood to dive into what Artificial Intelligence and Machine Learning related services are available for people to use. Peter and Eóin are experts in AWS and explain what is provided in its services, but easily extrapolate to other clouds. If you're trying to implement Artificial Intelligence algorithms, you may want to use or modify an algorithm already built and provided to you.
Panel
Charles Wood
Guest
Eóin Shanaghy
Peter Elger
Sponsors
Next Level Mastermind
Links
fourTheorem
Twitter: Eóin Shanaghy
Twitter: Peter Elger
Picks
Charles- The Eye of the World: Book One of The Wheel of Time by Robert Jordan
Charles - Changemakers With Jamie Atkinson
Charles- Podcast Domination Show by Luis Diaz
Charles- Buzzcast
Charles- Podcast Talent Coach
Eóin- IKEA | IDÅSEN Desk sit/stand, black/dark gray63x31 1/2 "
Eóin- Kinesis | Freestyle2 Split- Adjustable Keyboard for PC
Peter- The Wolfram Physics Project
Peter- PBS Space Time
Peter- Youtube Channel | 3Blue1Brown
Peter- Cracking the Code