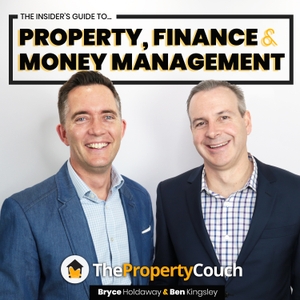 Ep. 235 | Money Hacks from the Money Queen - Chat with Effie Zahos
06.06.2019 - By The Property Couch

Folks, we're up and about today!
Because not only is our dear friend Effie Zahos… aka the Money Queen… finally back on the Couch with us (It was WAAAY back in Episode 105 that we last checked in with her)… there's also been a bit of a rate movement this week… the first in nearly 3 years! (Well, that, and our footy teams' played each other on the weekend and Bryce came out on top of ol' mate Kingsley!!)
What this rate movement means is a little more money in the bank for mortgage owners, which, especially when coupled with today's episode that's jam-packed full of Money Hacks, means that there's a bit of extra money on the table that you can put to work for you. Of course, it does also mean that the Australian economy isn't performing as well as the Reserve Bank of Australia (RBA) had hoped, and ultimately there's a LOT to be said about this decision. So, Ben has created a video on the June RBA Cash Rate Drop, which goes into detail about all this. You can check out the new rate announcement here.
But back to the wonderful, wise and VERY money-savvy guest who's joined us today…!
It'll probably come as no surprise to you who the Money Queen is… but we'll take no chances… and remove all doubt as to who Effie Zahos is!!! She is indeed the "Money" Queen… as in Money Magazine's finance editor for over 22 years! Well, we should say WAS the editor cos up until very recently, Effie decided to hang up her Money boots and walk in her own shoes instead… and she's JUST released a brand new book, A Real Girl's Guide to Money: From Converse to Louboutins!!And today she's sharing her best Money Hacks and financial tips so that you can stay on track of your hard-earned cash and make sure you have enough in retirement!
And, yep, if you hadn't put two and two together yet… Effie's personally worked alongside the likes of the Original Money Guru, Paul Clitheroe — our 200th episode's very special guest — for a couple of, ahh, DECADES.
So you're in VERY safe hands!
Also in today's ep, we let the cat out of the bag on Bryce's Brand New Free 3-Part Video Series…
[REVEALED] The Money Saving Hacks The Banks Don't Want You To Know About —- Free 3-Part Video Series
Money Saving Hack #1 — How To Make Sure You NEVER Pay Interest on Your Credit Card
Money Saving Hack #2 — How To Never Unconsciously Overspend Ever Again
Money Saving Hack #3 — How To Put Your Finances on Autopilot
Fill in the form below and we'll email you the videos right away!
Oh and folks, Effie Zahos has been generous enough to EXTEND THE DISCOUNT on her brand new book… <a href="https://www.magshop.com.