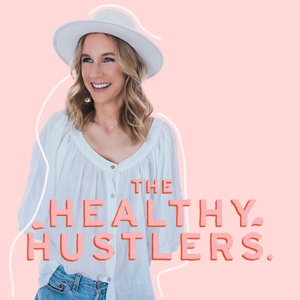 This episode of The Healthy Hustlers is proudly brought to you by Bugaboo. Bugaboo prams are made to lighten your load and turn every day into an enjoyable adventure.
In today's episode of the Motherhood Series, I'm joined by the delightful and super-savvy boss Mama, Emma Hawkins.
Recently returning from life in the AFL hub, Emma is wife to Geelong Cats footballer, Tom Hawkins and mother to two beautiful little girls Arabella and Primrose. Embracing their country childhood, Emma and her family reside on a stunning farm outside of Geelong Victoria.
No stranger to the work life, mum life juggle, Emma is a creative entrepreneur who holds many titles. An adored personality on social media, Emma has an online community of over 120,000 where she shares snippets of life on the farm, motherhood, fashion and work life. A familiar face on both our TV screens and red carpet events, Emma is driven, hard work and an incredibly creative person.
In this chat Emma dives into how 2020 has played out for her and her family, trying to find the balance, her feeding journeys and the personal development she did between her two babes to realise anxiety and build confidence, and the inspiration behind her children's clothing brand Homegrown.
Thank you to Bugaboo for making this episode of The Healthy Hustlers possible. Time to turn every day into an enjoyable adventure with Bugaboo Bee6. To order your Bugaboo Bee6 visit: www.bugaboo.com/au-en/

Follow Emma: https://www.instagram.com/emmahawkins_
Shop Homegrown: https://www.homegrownkids.com.au/
Follow your host, Madelyn: https://www.instagram.com/madelyncarafa
Follow The Healthy Hustlers Podcast for all guest news and updates: https://www.instagram.com/thehealthyhustlers
Join Healthy Hustlers Facebook Community: https://www.facebook.com/groups/288287145154102
Download your FREE HEALTHY GUIDES today: https://www.thehealthyhustlers.com/healthy-guide