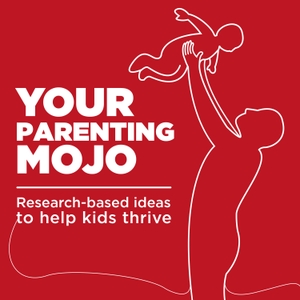 We've been in a liminal space for the last 15 months or so, since COVID shutdowns. (The word 'liminal' comes from the Latin root limen, meaning threshold). It's a place where a certain part of our lives has come to an end but the next thing hasn't yet begun, so we're in a transitional state.

We're finally starting to see the end of this liminal state but before we can fully emerge into the new world, we need to ask ourselves: what do we want that world to be like?

Do we want to go back to what it was before?

Because the world we had before wasn't working for a lot of parents. We were constantly rushing our children around from one activity to the next, maybe also trying to balance a career at the same time, attending thirty kids' birthday parties a year and just feeling completely spent, most of the time.

If we don't take the time to think about what we want life to be like when we reopen, chances are it'll look pretty much like it used to. And that can seem safe! It's always safer and easier to go back to what we know, rather than forward to what is unknown and scary.

What would something different even look like?

Maybe we would have fewer friends, whom we know much better.

Maybe we would do fewer activities, and spend a bit more time being, rather than always doing.

Maybe we would actually support families financially instead of having a 'families are the bedrock of our society...but you're on your own to provide for it' approach.

In this Mother's Day Momifesto, I explore all of these issues, and encourage you to think about how YOU want to be in this new world.

And if you need help figuring it out, the Parenting Membership is here to help. Doors are open now through midnight Pacific on Wednesday May 12th. We'll support you through the challenges of today (how to prevent tantrums! raising healthy eaters! navigating screen time!) while keeping an eye on where we want to go. Because you need both.

https://yourparentingmojo.com/parentingmembership/ ()

Jump to highlights:
(01:27) The Mother's Day Momifesto
(02:04) COVID shutdown
(04:28) School reopenings
(07:04) 18% of women in the US have taken antidepressants
(09:29) We try to control our bodies in a variety of ways
(12:27) Success is defined for men
(19:38) Women working communities
(20:25) Plenty of parents and children's needs are not met by the school system
(22:47) Intersectionality - the idea that different parts of our identities intersect
(25:10) Public transit systems are geared around men
(26:17) Contribution of scientific research on COVID 19- women scientists have published 19% fewer papers as lead author
(29:26) Standard Body Mass Index calculations are based on the weight of white people
(31:41) Nonviolent Communication
(34:06) How we can begin to make a difference
(44:55) Learning how to meet our own needs is a great place to start
(46:44) Reopening of your Parenting Membership will close on the midnight of May 12


[accordion]
[accordion-item title="Click here to read the full transcript"]
Jen Lumanlan 00:03
Hi, I'm Jen and I host the Your Parenting Mojo podcast. We all want our children to lead fulfilling lives. But it can be so hard to keep up with the latest scientific research on child development and figure out whether and how to incorporate it into our own approach to parenting. Here at Your Parenting Mojo, I do the work for you by critically examining strategies and tools related to parenting and child development that are grounded in scientific research on principles of respectful parenting. If you'd like to be notified when new episodes are released, and get a FREE Guide called 13 Reasons Why Your Child Won't listen To You and What To Do About Each One, just head on over to your YourParentingMojo.com/SUBSCRIBE. ou can also continue the conversation about the show with other listeners in the Your Parenting Mojo Facebook group. I do hope you'll join us.

Jen Lumanlan 00:54...