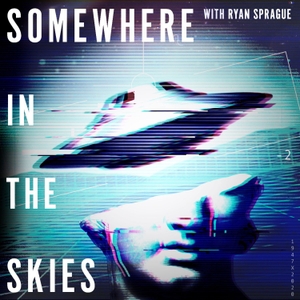 Mothman, Strange Tales of the Impossible, and the Singular Fortean Society
08.09.2021 - By Somewhere in the Skies
On episode 225 of SOMEWHERE IN THE SKIES, we are joined by Tobias Wayland, co-founder of the Singular Fortean Society. We talk about his extensive research in to a modern-day wave of Mothman sightings throughout the Midwest, winged humanoid encounters with violent implications, commonalities between UFO activity and incidents of high-strangeness, and the power of perception in observers when dealing with the impossible. 
Visit the Singular Fortean Society at: https://www.singularfortean.com/ 
Find Tobias Wayland's books at: https://www.singularfortean.com/books 
Help Somewhere in the Skies with a SUPERCHAT or THANK YOU donation above. Your support truly helps the show continue and grow!  Get 25% Off on Somewhere in the Skies Coffee for the entire month of August by using promo code: DARKSKY at checkout: https://bit.ly/3mIAq2o
Website: www.somewhereintheskies.com
YouTube Channel: CLICK HERE
Official Store: CLICK HERE
Somewhere in the Skies Coffee! https://bit.ly/3mIAq2o
Order Ryan's book in paperback, ebook, or audiobook by CLICKING HERE
Twitter: @SomewhereSkies
Instagram: @SomewhereSkiesPod
Somewhere in the Skies Subreddit: www.reddit.com/r/SomewhereSkiesPod/
Watch Mysteries Decoded for free at www.CWseed.com
Episode edited by Jane Palomera Moore
Opening Theme Song, "Ephemeral Reign" by Per Kiilstofte
SOMEWHERE IN THE SKIES is part of the eOne podcast network. To learn more, CLICK HERE Support this show http://supporter.acast.com/somewhere-in-the-skies.
 See acast.com/privacy for privacy and opt-out information.