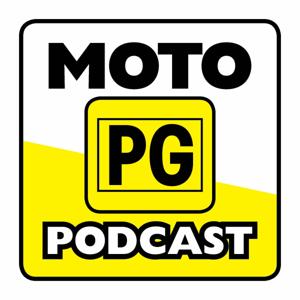 Moto PG Ep 046: Freido Says 'NO!'
08.17.2021 - By MotoPG
Freido says no. Often. And now you can say NO! too with a new T-shirt in the merch shop. Scroll down and find the link below and make sure to buy two. We need the money.
Now, apart from trying to get rich we're here to talk about motorcycles and motorcycle racing and the glory that is Moto GP and there is a bucketload of stuff to ruminate on this week.
The boys dissect Maverick's dummy spit and the soap opera that followed, Boris has penned a poem for The Giraffe King (plus his Cultural Awareness and Empathy Training) and there's an especially smug edition of 'I Told You So'. It's all in Episode 46 so as soon as you've finished reading about and visiting all the sponsors mentioned below, hit the play button and bask in the glory of the Greatest Motorcycle Podcast In The World.
As always, none of this would be possible without our sponsors and we are especially excited to announce we've added to the list this week as we welcome Aprilia Ausralia to the fold. Makers of some of the finest motorcycles in the world, it's an honour to welcome them to the Greatest Motorcycle Podcast In The World. They join a lineup of some of the most respected names in the Australian motorcycle industry including Made in Germany, Ron Angel Wholesale (suppliers of Nolan helmets in Australia), Suzuki and Velocity Vehicle Care.
(By the way, click the link for the Original Bike Spirits Moto PG deal on EBay.
It's a pretty simple deal people: All these guys support us so you need to support them. We don't do deals with sponsors whose products we don't endorse and if you stick with the brands we recommend you'll not only be buying quality but you're helping keep us on air.
And if you want to go that extra step, sign up for the Patreon Pit Crew and get access to exclusive content and competitions.
Only Pit Crew members get to ask the boys questions in the Hearts and Minds segment and only Pit Crew members are eligible for the amazing Held prize of a trip to Germany in 2022 to attend a MotoGP race and tour the factory.
Oh, and don't forget our MotoPG website and the merchandise shop where you can buy exclusive T Shirts only other MotoPG fans will understand.
It's all happening at the MotoPG podcast so stop reading this rubbish and start listening. Now.