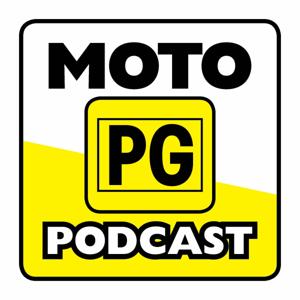 Moto PG Ep 065: The Ballad of Fabio's Cags
05.03.2022 - By MotoPG
And so there was racing, and there was merriment, and there was puerile, schoolboy humour to be had for someone had injured their private parts. And this was right in the wheelhouse of our intrepid trio of ill informed motorcycle correspondents who, despite knowing almost nothing about motorcycles or racing, still produce the greatest motorcycling podcast in the world. And Boris wrote a poem and the people did snigger because it was childish and rude and used profanity. And so it was that another episode of Moto PG came to pass, one that included a special guest whose technology lasted the entire episode and who also offered a poem of his own to the gods of motorcycle podcasting. And it was good, and you should listen to it. Now.
The Following is a Public Service Announcement:
None of this – and we mean none of this, including the yelling, the crying, the cussing, the finger-pointing, the nappy-soiling, the bitch-slapping, and gold medal prosciutto-making – would be possible without the support of our brilliant sponsors.
We demand and insist you support them because they support us. Don't make us come to your house with pipes and knives and force you to test-ride their bikes and buy their products. We will. We have no morals and jail only scares one of us, but Freido will be deported before he spends any time in Long Bay.
Click on the bloody links. Please.
Moto Guzzi Australia – As Italian as espresso, and as rewarding and fun to ride as that stolen horse you knocked off so you can pay the Sicilian bloke with the pretty daughter not to kill you. Every person has to own a Moto Guzzi once in their life.
Harley-Davidson Australia – The world's oldest, toughest, and most iconic marque has re-vamped, re-charged, and re-energised itself with a new engine and new models, which you just have to ride to believe. The legendary bikes are still there (No, Slim, they stopped making Knuckles a while back), but Harley is carving a whole new chapter in its storied history with the Pan America and the Sportster S. Ride and believe.
Savic Motorcycles – We couldn't be prouder than to have the support of Australia's own high-performance electric motorcycle manufacturer which is set to revolutionise e-motorcycles worldwide, while saving polar bears, low-lying countries, and every tree on earth from climate catastrophe. Won't do much for deserts, but. They're probably gonna stay deserts. If you can't get one of the gorgeous bikes, the least you could do is buy some of the gear – it would be un-Australian of you not to.
Honda Australia – From the very first superbike, the incredible Honda 750-4, Honda has been synonymous with speed. Racing is in its DNA, and HRC is the team everyone wants to be in. Producing some of the best-engineered bikes on earth, and boasting the services of multiple-world champion, Marc Marquez (now no longer blind, apparently), these are certainly the handlebars you wanna try hanging onto.
Made in Germany – For the very finest in riding gear, and the official Australian distributor of Held Biker Fashion – since 1946, Daytona boots, IXS and Pinlock.
SC-Project Oceania – There are no better motorcycle exhausts on this earth. None. The sexiest aural sex-cannons, from the world's largest and finest bike-exhaust manufacturer, can and must be yours. Do it. It is the song of our people. And you must play that song every time you ride. It's in the rules.
Suzuki Australia – Creators of truly legendary motorcycle, who also do a great job keeping Mir and Rins off the streets and on the MotoGP racetrack where they belong. If you don't test-ride Suzuki motorcycles at least once a week, you'll never get a pretty girlfriend.
Triumph Australia – The Empire awaits your pleasure. Booking a test-ride on any of the glorious English missiles is easier than getting stabbed by a Chelsea soccer hooligan, and until you've ridden a Rocket 3, you have not actually ridden anything.
Aprilia Australia – these magnificent bastards build bikes so good, their MotoGP efforts are better than the sweating bastards, The Munted Asparagus and Rev Bomb Vinales, will ever be. Go ride one of its masterpieces. Do it this weekend.