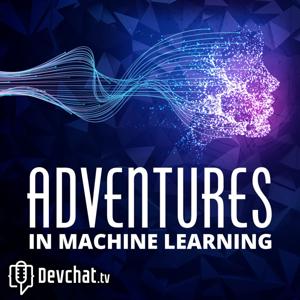 Slater Victoroff joins the Adventure to discuss mutli-modal AI and machine teaching with the panel. He starts out explaining what multi-modal AI is and how it works. The conversation goes deep before veering into Machine Teaching.
Panel
Ben Wilson
Francois Bertrand
Guest
Slater Victoroff
Sponsors
Dev Influencers Accelerator
Level Up | Devchat.tv
PodcastBootcamp.io
Links
LinkedIn: Slater Victoroff
Twitter: Slater Victoroff ( @sl8rv )
Contact Ben:
Databricks
GitHub | BenWilson2/ML-Engineering
GitHub | databrickslabs/automl-toolkit
LinkedIn: Benjamin Wilson
Contact Francois:
Francois Bertrand
GitHub | fbdesignpro/sweetviz
Special Guest: Slater Victoroff. Sponsored By:
Top End Devs Coaching: If you have questions about how to grow your skills or take your career to the next level, join us on our next weekly coaching call. It's completely free.
Advertising Inquiries: https://redcircle.com/brands
Privacy & Opt-Out: https://redcircle.com/privacy