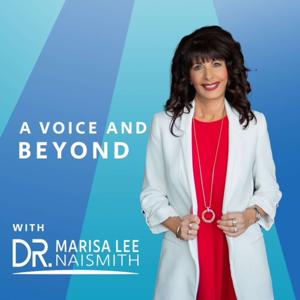 #63. My Secrets for Success and Sustainability in the Voice Industry with Associate Professor Irene Bartlett
05.15.2022 - By A Voice and Beyond
This week's guest is Associate Professor Irene Bartlett!
In the music industry, it is very difficult to sustain a long and enduring career, but our guest this week, Associate Professor Irene Bartlett has successfully navigated her music career and shares with us her secrets to longevity as a member of the voice community. Irene worked as a professional CCM singer for over 50 years and during that time transitioned into other roles such as a becoming voice teacher, a voice researcher, a contributing author and an international voice presenter. Currently, Irene is the Head of Pedagogy, Coordinator of Contemporary Voice & Voice Pedagogy Programs, the Head of Jazz Voice Studies and is proudly an associate professor, at Queensland Conservatorium, Griffith University in Queensland, Australia.
Irene is truly a trailblazer and a visionary and her knowledge and experience as led her to develop a unique and inclusive approach to teaching vocal pedagogy, which is not only based on voice science but also on her teaching philosophy that good singing is good singing. She continues to be an advocate for legitimising CCM from a pedagogical standpoint and opens up about her professional journey, her greatest accomplishments, how remaining relevant is key to sustainability and longevity, and the importance of family first and legacy. This is a brilliant not to be missed interview with my good friend, colleague, and mentor Associate Professor Irene Bartlett.
In this episode
01:16 – Introducing Associate Professor Irene Bartlett
05:36 — Irene's Singing background
14:16 — Teaching at Queensland Conservatorium
19:31 — Classical Colleagues' 
24:09 — Irene's path to success
27:25 — Vocal Pedagogy Program
33:21 — What constitutes good singing?
40:48 — Is it detrimental to a CCM singer's vocal health to be classically trained?
48:38 — Voice teaching's greatest revolution
49:59 — Most common diagnosis in her studio
52:17 — Irene's teaching philosophy
54:29 — Colleagues or institutions trying to silence her
1:05:29 — Finding balance between work and family
1:07:48 — Irene's greatest accomplishment
1:12:00 — Greatest piece of advice the singing voice community
For more go to https://drmarisaleenaismith.com/63
Like this episode? Please leave a review here - even one sentence helps!
Follow me on Instagram.