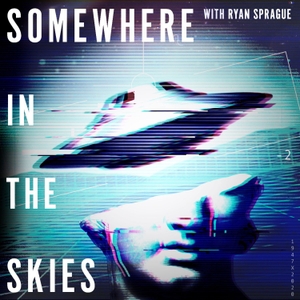 On episode 208 of SOMEWHERE IN THE SKIES, we take a trip to the island of Puerto Rico. There are areas throughout the world that are known for UFOs, ghosts, strange creatures, or paranormal events. But on the Caribbean island of Puerto Rico, its small towns, cities, and forests harbor all of these, and beyond. With a rich history and cultural diversity unlike any other, Puerto Rico takes pride in its legends and mysteries. From unexplained disappearances in El Yunque Rainforest to tales of lost spirits, lost civilizations, strange creatures, and dramatic UFO events in the skies and in the waters surrounding the island. Puerto Rico native, Yami Gonzalez, takes us on a journey through her family's local stories. Then, paranormal investigator, and star of Ghost Hunters International, Susan Slaughter, walks us through her terrifying experiences investigating El Morro Fortress and the Teatro Tapia. Cristina Hernadez of the Espooky Tales podcast also shares terrifying tales from the Puente de las Calabazas bridge. UFO researcher, Jorge Martin recalls fighter jet pursuits of triangular UFOs, crashes of unknown craft, and a possible extraterrestrial connection with the legendary Chupacabra. Lastly, could the recent discovery of unexplained stone carvings change the entire history of the indigenous Taíno people of Puerto Rico? This is only a portion of what's uncovered in this very special episode of Somewhere in the Skies, highlighting a very special place not only in the Caribbean or United States, but the entire world. These are the many mysteries of Puerto Rico.
Follow Susan Slaughter on Twitter: @slaughter_susan 
Follow ESpooky Tales Podcast on Twitter: @Espookytales 
Follow Cryptid Chat Podcast on Instagram: @cryptidchatgirl 
Learn how you can help support Puerto Rico from natural disasters and Covid-19: www.togetherpuertorico.com
This episode was researched and co-written by Jane Palomera Moore 
Special thanks to: Mayda Belen whose incredible voice you heard singing the Puerto Rico National Anthem. Thanks also to Seahaven Maritime Academy, The New York Times, DiscoverPuertoRico.com, New Insights TV, The Cryptid Chat Podcast, and the Espooky Tales Podcast. Special thanks to Jorge Martin, Yami Gonzalez, Cristina Hernandez, Susan Slaughter, Nick Redfern, Susan Parry and Andrew Sanford.
LAST CHANCE for discounts on the official Somewhere in the Skies coffee roast! Use promo code: SITSpod for 15% off your order: www.blacktrianglecoffee.com 
Patreon: www.patreon.com/somewhereskies
Website: www.somewhereintheskies.com
YouTube Channel: CLICK HERE
Official Store: CLICK HERE
Order Ryan's book in paperback, ebook, or audiobook by CLICKING HERE
Twitter: @SomewhereSkies
Instagram: @SomewhereSkiesPod
Watch Mysteries Decoded for free at www.CWseed.com
Episode edited by Jane Palomera Moore
Opening Theme Song, "Ephemeral Reign" by Per Kiilstofte
SOMEWHERE IN THE SKIES is part of the eOne podcast network. To learn more, CLICK HERE Support this show http://supporter.acast.com/somewhere-in-the-skies.
 See acast.com/privacy for privacy and opt-out information.