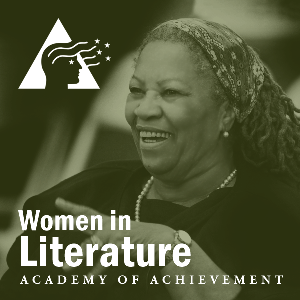 Born and raised in South Africa, Nadine Gordimer published her first short story in a children's magazine in 1937 at the age of 16. She left college without a degree and continued publishing short fiction in South African journals. She drew attention outside her country in 1951, when her stories began appearing in The New Yorker magazine. She published her first novel, The Lying Days in 1953.
In her short stories and novels such as Burger's Daughter and July's People, she explored the distortions imposed on ordinary human relationships by oppressive social systems like that of apartheid in South Africa. The infamous Sharpeville massacre of 1960 drove the author into political activism. She joined the African National Congress while it was still listed as an illegal organization by the government. While her fiction was repeatedly banned by the South African government it received the highest acclaim abroad. She won Britain's most distinguished literary award the Booker Prize for her 1974 novel The Conservationist. In 1991 she received the Nobel Prize for Literature, in recognition of her "magnificent epic writing… of very great benefit to humanity."
While she has traveled widely to lecture and teach she continues to make her home in South Africa. In this podcast, recorded at the 2009 International Achievement Summit in Cape Town, Nadine Gordimer discusses the relationship between the image and the word in a multimedia age, the challenges of achieving universal literacy in the developing nations, and the enduring power of the written word.