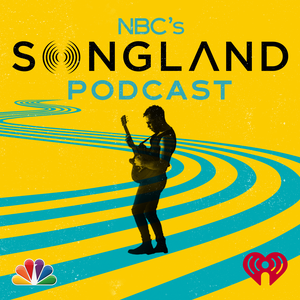 NBC's Songland Podcast
By iHeartRadio
What's NBC's Songland Podcast about?
NBC's Songland Podcast is the companion to Songland on NBC, a ground-breaking new contest show all about the intimate and mysterious art of songwriting. On Songland you will get a first-ever look behind the curtain and see how hit songs are really born. Four up-and-coming songwriters will compete to have their song chosen by a guest star recording artist, and will be aided by a songwriter-producer panel made up of the top songwriting talent in the business, Ryan Tedder (Beyoncé, Adele, Taylor Swift, Paul McCartney, U2); Ester Dean (Nicki Minaj, Katy Perry); and Shane McAnally (36 #1 Country Hits). You will see songs transformed in real time before your eyes, just as they are in today's top writing rooms, and witness the true alchemy that is songwriting.

On Songland's podcast we wanted to give the guest artists from Songland the opportunity to go even deeper into the magic of this process as they see it, and to tell you more about their own history and habits as songwriters. They will talk us through the creation of a song of their own, revealing their process in never-before-heard detail. And you'll get to hear more about why the artist chose the song they did on Songland, and what it was like for them being a part of this ground-breaking show. You'll also get to hear from the winning writer on each show about what it was like to hear their song molded and shaped into a hit on the spot by the top producer/writer talent in the business, and to hear their song sung by one of music's biggest stars.

In the lead-up to the show's premiere on May 28, Songland podcast is releasing four introductory episodes, one with each of the three producers on the show, Ester Dean, Ryan Tedder, and Shane McAnally, and also one featuring Dave Stewart, co-creator and executive producer of Songland, who also happens to have a string of number one hits of his own as a songwriter, including of course his many hits with Eurythmics, but also with No Doubt and many others since. These are some of the top songwriters in the business, and they will tell you about how they got there, and walk us through a song of their own as well: Dave Stewart talks about writing and recording 'Sweet Dreams' with Annie Lennox in their practice space above a frame shop in less than an hour; Ryan Tedder about finishing the track for Beyoncé's 'XO' on an airplane, and coming up with the final hook on a jog through an Australian park; Ester Dean describes getting a middle-of-the-night phone call from Nicki Minaj to work on 'Superbass,' and Shane McAnally talks about writing from a very personal story for Kacey Musgraves' 'Mama's Broken Heart.'

Join us for NBC's Songland Podcast, you will never hear music the same way again.

Premiering Tuesday May 14th as an iHeartRadio Original Podcast, available on the iHeartRadio App or wherever you get your podcasts.