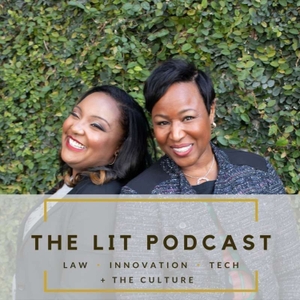 Tonya's on the road in Lima, Peru at the Asociación Interamericana de la Propiedad Intelectual ("ASIPI") speaking about the intersections between blockchain and intellectual property. Shontavia just returned from the Fulbright Association Conference in Washington, D.C., where she gave a TED-style talk on using pop culture and memes to build international bridges.
The co-hosts light into several LIT topics this week: the NCAA top governing board's announcement that it will allow student-athletes to profit off of their name, image and likeness; Representative Joyce Beatty's laser-sharp questioning of Mark Zuckerberg over Facebook's diversity, equity and inclusion efforts; and Lizzo's "Truth Hurts" troubles over her most famous song lyric, which came from a meme tweeted by @MinaLioness. Finally, during the LIT Level Up & Make Your Fire Work™ segment, Shontavia encourages people to go to conferences with a strategy for learning, networking, and being of service. Tonya talks about the importance of the breaks, meals, receptions, and hallways at conferences because of the value of impromptu conversations that happen organically in those spaces.
Trouble seeing the full-length show notes? Visit us at http://www.LITBraintrust.com and follow us @LITBraintrust.