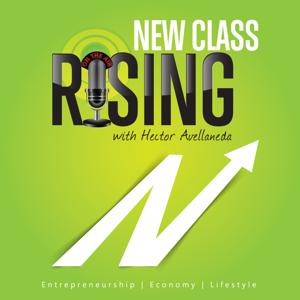 New Class Rising with Hector J. Mises
By Business and Economics Discussions w/ Guests like Anthony Tran, Fabian Calv
What's New Class Rising with Hector J. Mises about?
The New Class Rising Podcast was created of today's struggling Middle-Class. You've always followed life's advice - you've gone to College, put in the hard work, have earned that Corporate J.O.B but now you find yourself struggling to stay afloat in this economy that is only producing a declining standard of living, year after year.
Today's Middle Class is buckling under the pressure of Student Loan Debt, Credit Card Debt, Taxes, a higher Cost of Living, Diminishing Wages and a downsized Job Market. At the same time, Government National Debt is the highest in our Country's history, Government spending domestically and abroad is rampid, resulting in nonstop money printing - Inflation, which is a ghost tax on Middle Class income.
Prices for food, energy and everyday living expenses are rising faster than ever before and America's Middle Class family who works for a paycheck is red-lining - America's Middle Class is being wiped out.
But something extraordinary is happening! While America's Middle Class is being destroyed - A New Class is on the Emerging!
The New Class Rising podcast brings you Commentary on Internet Business and Economics and Interviews with real Internet Entrepreneurs who broke free from the normalcy paradigm and who are 'killing it' in their businesses.
Are you ready to join the New Class?