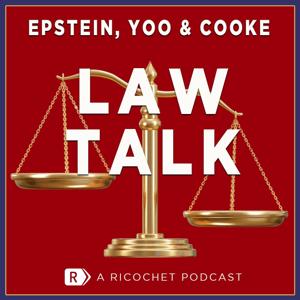 Sponsored by Casper, Away Travel, RXBAR
It's a pre-Thanksgiving session in the faculty lounge, and Professors Richard Epstein and John Yoo have prepared a feast of legal analysis. On the menu: Can the military really overrule President Trump in the event of a nuclear strike? Will the Supreme Court force crisis pregnancy centers to promote abortion? Is a new plan to expand the federal judiciary just GOP court-packing? And is Donald Trump violating the constitution by blocking people on Twitter?
All that plus Epstein on the economics of Thanksgiving, Yoo on the McRib app (it's a thing), and, yes, a little bit of Roman law as our holiday gift to you.
Join the conversation and comment on this podcast episode: https://ricochet.com/podcast/law-talk/no-fighting-faculty-lounge/. Podcast listeners: Now become a Ricochet member for only $2.50 a month! Join and see what you've been missing: https://ricochet.com/join/.Subscribe to Law Talk With Epstein, Yoo & Senik in iTunes (and leave a 5-star review, please!), or by RSS feed. For all our podcasts in one place, subscribe to the Ricochet Audio Network Superfeed in iTunes or by RSS feed.