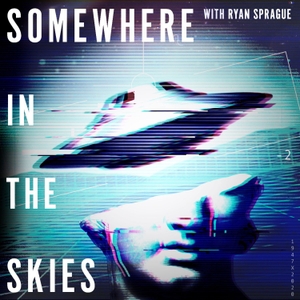 On episode 224 of SOMEWHERE IN THE SKIES, Ryan is joined once again by Seth Breedlove of Small Town Monsters and Shannon LeGro of Into the Fray to discuss their latest film, On the Trail of UFOs: Dark Sky. The film picks up where last year's web series, On the Trail of UFOs, left off. This time, Breedlove and LeGro head to West Virginia to look at the state's long history of strange objects in the sky, including local UFO sightings, the famous Flatwoods Monster encounter, the terrifyingly bizarre lore of Indrid Cold and the mysteries behind the Men in Black. They also tease some of the adventures they had in the mountains and caves of West Virginia, and what comes next as they continue their relentless search for answers on the trail of UFOs.
On the Trail of UFOs: Dark Sky is available August 3rd on all streaming platforms. To learn more, visit: https://www.smalltownmonsters.com/shop 
Find all of Shannon LeGro's work at: https://intothefrayradio.com/ 
25% off all Black Triangle Coffee orders with code: DARKSKY at checkout: www.blacktrianglecoffee.com
Patreon: www.patreon.com/somewhereskies
Website: www.somewhereintheskies.com
YouTube Channel: CLICK HERE
Official Store: CLICK HERE
Somewhere in the Skies Coffee! https://bit.ly/3mIAq2o
Order Ryan's book in paperback, ebook, or audiobook by CLICKING HERE
Twitter: @SomewhereSkies
Instagram: @SomewhereSkiesPod
Somewhere in the Skies Subreddit: www.reddit.com/r/SomewhereSkiesPod/
Watch Mysteries Decoded for free at www.CWseed.com
Episode edited by Jane Palomera Moore
Opening Theme Song, "Ephemeral Reign" by Per Kiilstofte
SOMEWHERE IN THE SKIES is part of the eOne podcast network. To learn more, CLICK HERE Support this show http://supporter.acast.com/somewhere-in-the-skies.
 See acast.com/privacy for privacy and opt-out information.