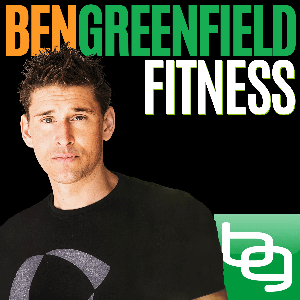 One Comprehensive Health Test To Rule Them All? How To Get An At-A-Glance "Clarity" Report Of Your Genetic Age, Death Risk, Gut Health, Ideal Diet, Exercise, Sleep & Much More.
12.12.2020 - By Ben Greenfield Fitness
Drs. Matt Dawson and Mike Mallin are multi-time repeat podcast guests on my show, and the lead physicians at Wild Health, with locations and physicians spread all across the United States. I first interviewed these guys in the episode "How To Use Precision Medicine To Enhance Athletic Performance, Defy Aging, Balance Hormones, Fix The Heart & Much More." then again in "Why Your DNA Is Worthless (& What You Need To Focus On Instead)", and finally, a few months ago, in the episode "Biohacking Your Brain With Precision Medicine, Genomics, Psychedelics, Advanced Nutritional Strategies & Much More!". In this episode, they're back to reveal a brand new, impressively comprehensive biomarkers test that they've had a team of MDs, PHDs, data scientists, and software developers working on for over a year. It takes into account genetics, epigenome, microbiome, environment and more, and they call it "Wild Health Clarity". Dr. Matt Dawson is a precision medicine physician in Lexington, KY, co-host of the Wild Health Podcast, and has been obsessed with performance optimization as long as he can remember. He received scholarships to play two sports in college even with "minimal talent" because of his voracious reading and implementation of any fitness or nutritional techniques that would give him an edge. Dr. Dawson continued that obsession in medical school, and as a physician, he has won national awards for education, innovation, and leadership. He has lectured in over 20 countries and trained thousands of other physicians through live lectures, online education, two textbooks, and an educational app. Dr. Dawson combines his training in genomics and functional medicine to give personalized, precise medical guidance. His obsession with performance optimization has morphed from, initially athletic, to now mental performance and longevity. Whether you're a professional athlete or a grandparent optimizing your mental clarity and mobility to keep up with your grandkids, Dr. Dawson is passionate about helping you perform at your absolute peak. Dr. Mike Mallin is a physician in Bend, OR who is obsessed with health performance and precision medicine and is co-founder of the Wild Health Podcast. He completed medical school in South Carolina and trained in emergency medicine in Salt Lake City, UT, where he competed in several ultramarathons and found his love for the mountains and performance. Mike currently practices in Bend, OR, and Lexington, KY in his precision medicine clinics. He is also co-founder of the Ultrasound Podcast, an educational podcast that has taught thousands of physicians all over the world how to use ultrasound. [pdf-embedder url="/wp-content/uploads/2020/12/Updated-WH_PersonalizedHealthReport_Ben_Greenfield_20201110-1.pdf" title="Personalized Health Report Ben Greenfield 20201110"] During this discussion, you'll discover: -Why Matt and Mike's report is different from all the other reports out there...09:45 Obsessed with precision medicine SNP's give incomplete genetic info Multiomics (blood biomarkers, microbiome data) is difficult to quantify thoroughly One single report to optimize health and maximize health span -How the report is utilized from doctor to patient...14:30 Overall assessment (tree of life) Begin with an overall objective score (out of 100) Get the number, then discuss how to raise the score Epigenetic age Chronic disease risk calculator Longevity genes (The following notes are the review of Ben's report) -Sleep and circadian genetics...18:25 The only thing in Ben's report that could be improved was sleep Oura Ring data is used as a reference Deep, REM, total amount of sleep were slightly lacking An afternoon nap or meditation session may help alleviate sleep issues How do you feel when you wake up; do you use an alarm to wake up Certain gene SNP's affect circadian rhythm Examine multiple SNP's simultaneously Resting heart rate elevation during first half of the night indicates eating too late -Diet and nutrition...27:00 Begin with macronutrients: carbs, fat, saturated fat, protein; proceed to micronutrients Carb intolerance score is primarily from genetics Gives an idea of what the body is best for converting into energy Higher LDL increases risk of CV disease (but take data into context) The report isn't meant to stand on its own; it's a reference point to practice precision medicine Begin with general recommendations to account for conflicts in the report due to multiple labs giving data Recommendations are editable by the physician -Methylation...40:35 Choline risk score Folate risk score TMAO Ben's highest risk associated with choline Higher levels of liver enzymes (relic of intense training from years past) Experiment with variables to take out the guesswork The Best Way To Test How Healthy Your Heart Is: Ben Greenfield Undergoes A Complete Advanced Cardiac Evaluation & Reports The Surprising Results! with Dr. Ram Dandillaya -Vitamins and micronutrients...46:20 Ben's zinc levels are lower (genetically predisposition for it) Black Ant powder Delayed onset muscle soreness (DOMS) Food examples to increase elements such as collagen -Balancing gut reactions vs. genetic pathways to superfoods...49:45 What do you like? What have you tried in the past Very few set in stone guidelines; lots of room for experimentation Know how to pursue a particular diet like the carnivore diet -Exercise and recovery...52:10 Most important factors: genetics and preferences DNAfit test Plan is for a beginner looking for where to start; make recommendations on existing plans for established athletes Sex hormone binding globulin tends to be high in active individuals eating a high fat, low carb diet DUTCH test -Neural behavioral...1:00:15 FAAH gene determines how you use CBD BDNF: take lion's mane, sauna (use code BENGREENFIELD to save $500) Tips and tricks to "hack" neurological function -Microbiome...1:01:55 Viome test results added to the WH results (use code GREENFIELD to save 5%) Diversity is high; inflammation is low (ideal scenario) Berberine can help with proteobacteria Onegevity Probiotics are difficult to change gut bacteria Lifestyle and diet are important -Cardiovascular disease...1:06:40 Two risk scores: Mesa Genetic CV risk score -Longevity...1:10:05 Telomere lengths Ben's epigenetic age Biological vs. chronological age Proceed with caution when it comes to prescriptions and medications Telomere data is shaky -How to take the Wild Health Clarity report...1:14:20 -And much more! Resources from this episode: 10% discount to be a patient at Wildhealth.com with the code BEN. 10% discount to be a fellow at wildhealthfellowship.com with the code BEN. 10% discount to attend our course that Ben will attend at wildhealthsummit.com with the code BEN. Episode sponsors: -Kion Colostrum: With winter in full-swing and the gut-busting holidays approaching, it's a great time to start taking colostrum as insurance. You can get Kion Colostrum and save 20% off your first order with code BGF20 -Organifi Gold: A new take on an ancient secret: Pain-soothing herbs, incredible antioxidants, and phytonutrients all in one delicious, soothing "Golden Milk" nighttime tea! Receive a 20% discount on your entire order when you use discount code: BENG20. -Paleo Valley Beef Sticks: 100% grass-fed AND grass-finished. Keto friendly and higher levels of Omega 3 Fatty Acids. Receive a 15% discount off your order when you go to paleovalley.com/ben -Thrive Market: Organic brands you love, for less. Your favorite organic food and products. Fast and free shipping to your doorstep. Receive a gift card worth up to $20 when you begin a new membership. Do you have questions, thoughts or feedback for Matt Dawson, Mike Mallin or me? Leave your comments below and one of us will reply!