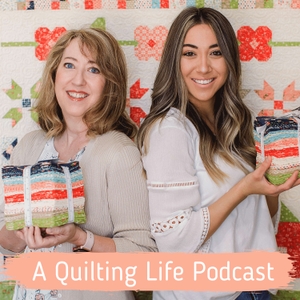 One Year Anniversary Special! Looking Back and Looking Forward, and the Future of Quilting
05.31.2021 - By A Quilting Life Podcast
This episode marks our 1-year anniversary since we began the podcast on June 1st 2020! We so appreciate all of the wonderful support from our listeners over the past year. In this episode Sherri, Chelsi, and Billy reminisce on the idea of starting a podcast and how it developed into what it is today. The group also share some of their ideas for the future of the podcast, including new guests, topics, and listener call-in questions. To wrap up this special episode the group discusses the future of the quilting industry and answers a question that was recently posed to Billy, "Isn't quilting a dying industry?" Also, Sherri and Chelsi are giving away a couple prizes for hitting the 1-year mark. Listen to the full episode for details on how to enter the giveaway!
For complete show notes, and pictures and links to all of today's featured quilts and fabrics, visit the A Quilting Life Blog: https://www.aquiltinglife.com/?p=22751
Visit the A Quilting Life YouTube channel for more great video content: https://www.youtube.com/channel/UCmSR-jDR956ATQe30JHX87w
 
Enjoy what you heard? Be sure to rate and review us on Apple Podcasts and your review could  be read on the show!