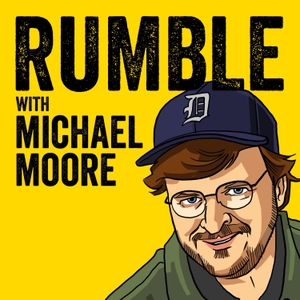 Eric Roth is one of the most successful Hollywood screenwriters of our time. His writing credits include  "A Star Is Born," "Extremely Loud & Incredibly Close," "The Curious Case of Benjamin Button," "The Good Shepherd," "Munich," "Ali," "The Insider," "The Horse Whisperer," "The Postman," and the film for which he won an Academy Award, "Forrest Gump."
He's also written two of the most highly-anticipated films coming later this year: the science-fiction drama "Dune," and the Martin Scorcese-Leonardo DiCaprio-Robert De Niro collaboration, "Killers of The Flower Moon."
His most recent film, MANK, is one that he produced, and it's up for an Academy Award for Best Picture (among several other nominations) at the Oscars later this month. Roth joins Michael Moore to discuss making MANK with his close collaborator and best friend, director David Fincher, how "Killers of The Flower Moon" may be "the last movie of its kind," what to expect from "Dune" when comes out, his screenwriting advice, and his guilt about making "House of Cards" which helped catapult streaming as the #1 way we watch movies now.  They also share their thoughts on the importance of preserving the theatrical experience, the closing of the ArcLight Cinerama Dome, and the future of cinema.
Watch Oscar-Nominated MANK
https://www.netflix.com/title/81117189
Watch the other Oscar-nominated "Time"
https://www.amazon.com/gp/video/detail/B08J7DDGJY/
Watch "Extremely Loud & Incredibly Close"
https://bit.ly/3tk56cW
Music in the episode:
San Simeon Waltz - from MANK Original Score - Trent Reznor & Atticus Ross
https://www.youtube.com/watch?v=yGq2plu-9xw&t;=1931s
Shallow (From A Star Is Born/Live From The Oscars) - Lady Gaga, Bradley Cooper
https://youtu.be/JPJjwHAIny4
Special offer for Rumble listeners! For high-quality video conference technology, try SignalWire:
Go to SignalWire.com and use the code "Moore" for a free 30-day trial!
---
Send in a voice message: https://anchor.fm/rumble-with-michael-moore/message