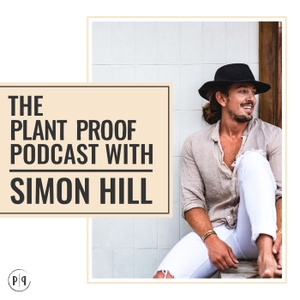 In Episode 104 I sit down with Environmental Researcher Nicholas Carter to chat about how our current food system is effecting the environment and what changes need to be made in order to meet climate goals and create a system that results in better food security, less water pollution, less land use, less freshwater use and greater production efficiency.
SPECIFICALLY WE COVER:
•What is climate change?
•What are the implications of a warming planet?
•What are planetary boundaries?
•Is climate change more than an energy issue?
•What are greenhouse gases?
•The major greenhouse gases - Carbon Dioxide, Methane and Nitrous Oxide
•Human activity and greenhouse gases
•Agriculture and GHG's
•Importance of understanding land use, deforestation and carbon sequestration when land is left alone
•Animal versus plant based foods and their environmental impact
•Impact of transport on the footprint of our food compared to the type of food
•Holistic grazing (form of regenerative agriculture proposed by Alan Savoury and Game Brown etc) - is it a climate change solution?
•What a more efficient food system looks like
•Animal manure vs green manure
•Monocultures vs Polycultures and soil health
•Access to food that has a lower environmental footprint to make it the easier decision for people (Default-Veg)
•Top tips that we can implement on an individual basis to lower our environmental footprint
•much more (wow - one of my favourite episodes yet)
RESOURCES:
•Poore & Nemecek 2018 study looking at the environmental impact of food from almost 40,000 farms across 119 countries.
•2020 Drawdown Review by Paul Hawken and his team (shift to plant centric diets)
•EAT Lancet report - the planetary health diet (88% or more calories from plants)
•Meat the Future documentary (cellular agriculture - a potentially more sustainable way to produce meat in the future)
•Why buying local is not as important as food source when it comes to the environmental footprint of your food
•FCRN report that covers holistic grazing
•White Oak Pastures
•Why methane matters - https://www.rte.ie/brainstorm/2019/0213/1029274-why-methane-matters-so-much-in-climate-change-planning/
•Blog on Climate change and our food system
•GHGs in US are significantly underestimated: https://faunalytics.org/animal-agriculture-is-responsible-for-more-ghg-emissions-than-previously-thought/#
•The need to measure carbon opportunity loss of land use change, and shows at least 42% of pastureland globally was forest: https://pubmed.ncbi.nlm.nih.gov/30542169/
•Limited & reversible sequestration from even the best grazing syste...