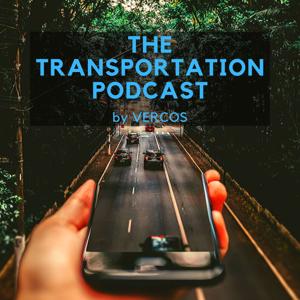 ​Welcome to The Transportation Podcast by VERCOS!
In our 6th episode, hosts Amit Singh Baghel and Javed Ahsan welcome Dr Paul Barter, a freelance policy analyst, researcher, trainer and podcaster on urban transport and parking. ​Dr ​Barter has worked on parking issues in many cities in Australia, China, Colombia, Indonesia, Singapore, Thailand and India for World Bank, GIZ and ADB. He is also an adjunct associate professor at the National University of Singapore and writes and podcasts at the Reinventing Parking (https://www.reinventingparking.org/) and Reinventing Transport websites (https://www.reinventingtransport.org/p/about-paul-barter.html).  ​Dr ​Barter enlightened us on the following issues:How parking demand is different for an engineer and an economist and why this matters? Why on-street parking management is crucial for successful off-street parking operations?Why off-street parking should be market-driven and should only be constructed by private players?What is the magic sauce of parking management and how to use it appropriately?What are parking minimums and why they should be removed?How parking fuels social injustice? What would a good parking policy aim? ​Hereon we are including a Q&A; section to our podcast and invite questions from all our listeners, including students, researchers, consultants, policymakers or a general user like all of us; if there is anything you would like to know more about anything transport, email us at [email protected] with Podcast Q&A; as the subject line.  You are invited to comment on current transport policies, discuss an upcoming infrastructure or lack of it in your city, or may simply ask for career advice in the field; all are welcome. Relevant questions shall be featured on our next episode of the transportation podcast. Let us know your viewpoint and we'll talk about it in the Q&A; section of our next episode.  We hope all our listeners will enjoy this episode of The Transportation Podcast by ​VERCOS. We request you to support us by subscribing to the podcast and share it with your family, friends and peers. Your hosts Amit Singh Baghel and Javed Ahsan will be back shortly with another interesting and informative episode.  Till then, keep walking!
Website: https://vercos.in/
email: [email protected]
Linkedin:
https://www.linkedin.com/company/official-vercos/
https://www.linkedin.com/in/javedahsan/
https://www.linkedin.com/in/amitsinghbaghel/ Disclaimer: The views expressed on The Transportation Podcast by the guest/s are solely his/her/their own, and do not represent the opinion/s of Vercos or it's founders, directors, employees and its affiliates in any way.
Music from https://filmmusic.io​ ​"Cheery Monday" by Kevin MacLeod (https://incompetech.com)​ License: CC BY (http://creativecommons.org/licenses/by/4.0/)Support the show