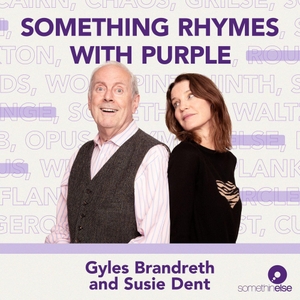 In this our 99th episode we're calling our Purple People to the bar and passing judgement on the words of law!
Susie tells us what a large number of judges and a large amount of food have in common, why the Old Bailey has Roman origins and explains why a Juror must swear but never curse.
Gyles asks some ad hoc questions, as is his modus operandi, and proves that he's no ignoramus when it comes to stories of late, great lawyers. 
Later, Susie and Gyles are brief about briefs, explain the significance of colourful bags and ribbons, and cause mayhem with some dark humour- but who doesn't love the sound of a "mans laughter"?
A Somethin' Else production.
Susie's trio:
Ninguid- blanketed in snow
Widdendream- to be in a state of confusion or mental disturbance
Rhinarium- the moist nose of an animal like a dog or a cat
If you would like to get in touch with Gyles and Susie with any questions, please email [email protected]
Our fabulous new range of merchandise is now live at https://kontraband.shop/collections/something-rhymes-with-purple
PLUS for this first week we are giving you 10% off all items if you use the code purple2021. So whether you're buying a treat for yourself or a gift for a Purple loved one then now is the time to do it.
Learn more about your ad choices. Visit megaphone.fm/adchoices