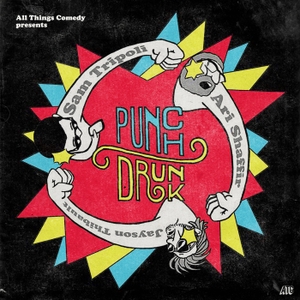 #374: "PHDs should be legal" with Rene Casas and Angelo Pisu
12.19.2019 - By Punch Drunk Sports
The old school Punch Drunk game is partially reformed for this edition of the show, with guests and former show producers Rene Casas and Angelo Pisu in studio.
Save 20 percent and get free shipping with the code "PUNCHDRUNK" at Manscaped.com. Be sure to check out the Lawnmower 2.0, which we all love.
Head over to BETDSI.com and get $10 free betting cash by using our code "Punch25" when registering.
Visit SeatGeek and buy tickets using the code "PunchDrunk" to save on your first purchase.
To support the show directly and gain access to the weekly Super Secret Pod visit www.patreon.com/punchdrunksports.
Past guests include Joe Rogan, Duncan Trussell, Bert Kreischer (again), Pauly Shore, Tom Segura, Bobby Lee, Brody Stevens, Don Barris, Jason Ellis, Bryan Callen, Brian Redban, Josh Barnett, Brendan Schaub, Steve Rannazzisi, Tait Fletcher, and many, many others.