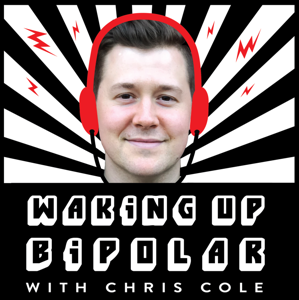 In this episode of Waking Up Bipolar, Chris Cole speaks with Phil Borges—esteemed human rights photographer and documentarian, and recent Director & Executive Producer of the film CRAZYWISE, which explores what can be learned from people around the world who have turned their psychological crisis into a positive transformative experience. 
For over twenty-five years, Phil Borges has been documenting indigenous and tribal cultures, striving to create an understanding of the challenges they face. His work is exhibited in museums and galleries worldwide, and his award winning books, which have been published in four languages, include Tibetan Portrait, Enduring Spirit, Women Empowered and Tibet: Culture on the Edge. He has hosted television documentaries on indigenous cultures for Discovery and National Geographic channels. Phil also lectures and teaches internationally.
Phil's recent project, CRAZYWISE, explores the relevance of Shamanic traditional practices and beliefs to those of us living in the modern world. CRAZYWISE centers around a young man struggling with his sanity, world renowned mental health professionals, and a gutsy survivor-led movement...all challenging a mental health system in crisis.
As you'll hear (or watch) in our conversation, Phil Borges has been thrusted into a profound curiosity for non-ordinary states of consciousness that touches on the experiences of many folks with bipolar. I am so inspired and grateful for this film, CRAZYWISE, which illuminates the spiritual nature and transformative potential of altered states so often associated with ideas of mental illness.
CRAZYWISE Film: https://crazywisefilm.com/ 
Phil Borges's TED talk: https://youtu.be/CFtsHf1lVI4
Phil Borges website: http://philborges.com/
JOIN THE DISCUSSION at https://www.facebook.com/groups/wakingupbipolar
Chris Cole hosts the Waking Up Bipolar podcast, focused on the intersection of bipolar disorder and spiritual awakening. He is the author of The Body of Chris: A Memoir of Obsession, Addiction, and Madness, inspired by his own journey of spiritual unfolding and mental health challenges. Chris Cole offers life coaching for any number of mental health conditions, specializing in bipolar disorder and spiritual emergence. Chris's experience with addiction, disordered eating, body dysmorphia, psychosis, and spiritual emergency allows him to relate to a wide range of clients. He utilizes a holistic approach to mental health which views wellness in physical, mental, emotional, social, and spiritual domains. Learn more about Chris and his work at colecoaching.com.
The Waking Up Bipolar podcast in now available on the following platforms:
Apple Podcasts | apple.wakingupbipolar.com
Google Play | google.wakingupbipolar.com
Stitcher | stitcher.wakingupbipolar.com
TuneIn | tunein.wakingupbipolar.com
wakingupbipolar.com