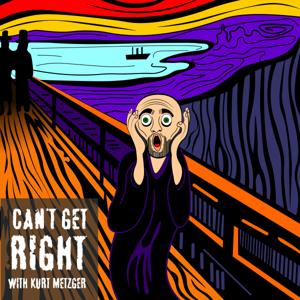 On this weeks #CantGetRight, Kurt Metzger is joined by comic book artist Ethan Van Sciver to talk about Superman coming out as gay, a Marvel editor who lied about being Asian, a bird watching lesbian, and MUCH more on this ALL NEW episode of #CantGetRightPodcast.
#CGR Ep 109
SUPPORT OUR SPONSORShttps://bit.ly/2TrhCdP Promescent link for FREE Shipping and 60 Day Money Back Guaranteehttps://RockAuto.com and tell them you heard about them on the "Can't Get Right" Podcasthttps://manscaped.com Promo Code KURT for 20% OFFhttps://YoDelta.com and use promo code GAS for 25% OFF
Watch & SUBSCRIBE on YouTube
https://www.youtube.com/channel/UClEVLwqZI1STFKP7-Ea5WuA?sub_confirmation=1
Can't Get Right is LIVE every SATURDAY at 10PM ET ONLY on #GasDigital Network
Or catch the YouTube Premiere the following TUESDAY at 11PM
https://GaSDigitalNetwork.com/LIVE
Sign up to #GasDigitalNetwork with promo code KURT for a 7 Day FREE TRIAL to get access to the HD livestreams, the live chat, and all episodes On Demand in HD.
https://GaSDigitalNetwork.com/high-octane-all-access
FOLLOW THE WHOLE SHOW!
Kurt Metzger
Instagram: https://www.instagram.com/kurtmetzgercomedy
Twitter: http://www.twitter.com/kurtmetzger​​​
Ethan Van Sciver
Instagram: https://www.instagram.com/ethanvansciver
Twitter: https://www.twitter.com/ethanvansciver
GaS Digital Network
Instagram: https://www.instagram.com/gasdigital
Twitter: https://twitter.com/gasdigital
#KurtMetzger #EthanVanSciver #comics #comicbooks #marvel #artist #superman
See Privacy Policy at https://art19.com/privacy and California Privacy Notice at https://art19.com/privacy#do-not-sell-my-info.