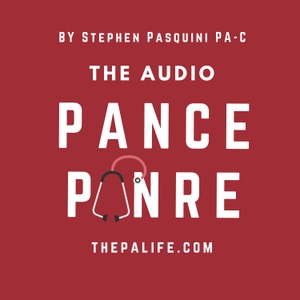 Welcome to episode 81 of the Audio PANCE and PANRE PA Board Review Podcast.
Join me as I cover ten internal medicine rotation EOR content blueprint questions from the Smarty PANCE physician assistant board and rotation review website.
Special from today's episode:
* Check out the new Smarty PANCE Internal Medicine Rotation (EOR) Review Course
* Download your Free Trello Smarty PANCE PAEA Internal Medicine EOR Tracking Template
* Take the FREE Internal Medicine Rotation Cardiovascular Practice Exam
* View the interactive Smarty PANCE Internal Medicine Rotation (EOR) Topic List
Below you will find an interactive exam to complement the podcast.
The Audio PANCE/PANRE and EOR PA Board Review Podcast
I hope you enjoy this free audio component to the examination portion of this site. The full board review course includes over 2,000 interactive board review questions and is available to all members of the PANCE and PANRE Academy and Smarty PANCE.
* You can download and listen to past FREE episodes here, on iTunes, on Google Play Music or Stitcher Radio.
* You can listen to the latest episode, take an interactive quiz and download more resources below.
Listen Carefully Then Take The Practice Exam
If you can't see the audio player click here to listen to the full episode.
Podcast Episode 81: Ten Internal Medicine EOR Cardiology Questions
The following questions are linked to PAEA Content Blueprint lessons from the Smarty PANCE and PANRE Board Review Website. If you are a member you will be able to log in and view this interactive video lesson.
1. 55-year-old woman is admitted to the hospital because she has shortness of breath and pain on both sides of her chest with deep breathing which has worsened over the past 5 days. In recent weeks, she has been feeling fatigued and has had low-grade fevers and night sweats, and was found to have a new cardiac murmur on examination. Her temperature is 38.1°C (100.6°F), pulse is 106/min, respirations are 26/min, and blood pressure is 136/88 mm Hg. She appears diaphoretic and is in mild respiratory distress.