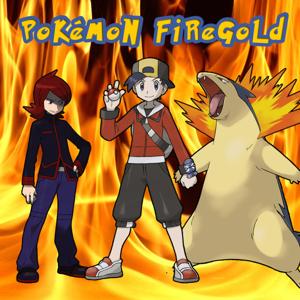 Pokemon FireGold
By PAPAYA, Draftmaster, Arch Canine, Teddy
What's Pokemon FireGold about?
A parody of the Pokemon Gold, Silver, and Crystal games. Inspired by his Pokemon Red Game Boy game, a new hero decided that he too wanted to collect Pokemon, earn badges, and conquer many challenges in his own region: Johto. Join Gold as he does all this and more stupid things on Pokemon FireGold! All feedback is welcome at [email protected] and be sure to follow us on our blog at pdafiregold.blogspot.com for all the links you can find FireGold related content and for the write-ups of each episode!
VERY IMPORTANT REGARDING ANNOYING BANDWIDTH NOTICES: If you cannot download or preview our episodes because of our limited bandwidth, feel free to check them out on our YouTube channel "PDAFireGold" or on pdafiregold.podomatic.com. Please, ignore the man and do NOT donate to us.
Special thanks to our good friend, Brian, for creating our artwork!
Note: Pokémon is the property of Nintendo/Creatures Inc./GAME FREAK inc. Pokémon and Pokémon character names are Trademarks of Nintendo.