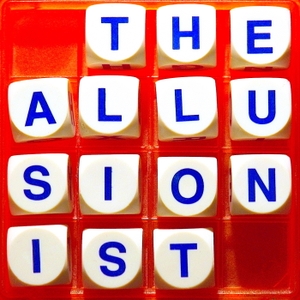 When there were no safe spaces to be gay, Polari allowed gay men to identify and communicate with each other, and to keep things secret from outsiders. Professor Paul Baker, author of the Polari dictionary and the new book Fabulosa! The Story of Polari, Britain's Secret Gay Language, explains how Polari emerged from criminal cant and London's theatres and docks to be used a code language for gay men in the oppressive 1950s - and then, not long after, it entered the slang lexicons of the general public, via popular sketch comedy and the mouth of an annoyed princess.
Find out more about this episode at theallusionist.org/polari.
The all new Allusionist live show, No Title, is touring in New Zealand and Australia. We've added extra shows in Christchurch and Melbourne, and will also be on in Brisbane, Sydney, Canberra, Adelaide, Perth and Darwin. Leg it to theallusionist.org/events to get tickets.
The Allusionist's online home is theallusionist.org. Stay in touch at twitter.com/allusionistshow, facebook.com/allusionistshow and instagram.com/allusionistshow.
The Allusionist is a proud member of Radiotopia from PRX, a collective of the finest podcasts on the interwaves. Find them all at radiotopia.fm.
In May 2019, the Allusionist is sponsored by:
• Squarespace, your one-stop shop for creating and running a good-looking and well-working website. Go to squarespace.com/allusion for a free trial, and use the code ALLUSION to get 10% off your first purchase of a website or domain.
• Bombas, socks that won't let you - or themselves - down. Buy your expertly engineered socks at bombas.com/allusionist and get 20% off your first purchase.
• Babbel, the app that teaches you a new language with confidence. If you're in the USA, text ALLUSIONIST to 484848 to try a Babbel lesson for free. Elsewhere? Check out the courses at babbel.com and on the Babbel app.
• Beer52, the craft beer discovery club. Each month they'll deliver to you eight different craft beers, PLUS a snack, PLUS a copy of the award-winning Ferment magazine. If you're in the UK, Beer52 will give you your first case for free; you just need to pay the £5.95 postage. Claim your free case today at beer52.com/allusionist.