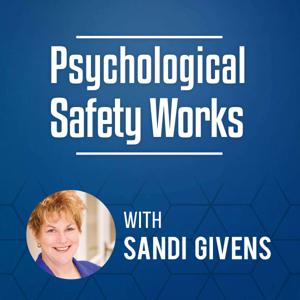 Sandi tells us why she's been absent ... and why she's come back.
In this episode, you will hear:Sandi's personal experience of the impact of COVID-19 on her business and her life
5 specific and very tangible actions you can take to improve your mental health and wellbeing and maintain a healthy level of mental fitness
What's coming up in Episode 6 - critical information for all leaders and employersIn case you haven't already received your complimentary copy of Sandi's Workplace Psychological Assessment tool, click here. You'll find the access button readily available on the Home Page. Or, contact Sandi directly at [email protected] and she will email a copy to you.
Psychological Safety Works - useful links:
Psychological Safety Works website - https://psychologicalsafetyworks.com.au/ 
Psychological Safety Works Facebook page 
Connect with Sandi on LinkedIn - https://www.linkedin.com/in/sandigivens/
Email Sandi at [email protected]