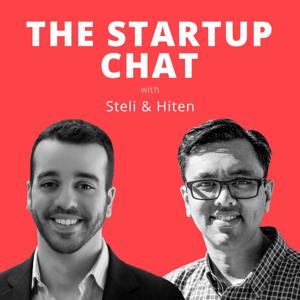 In today's episode of The Startup Chat, Steli and Hiten talk about questions to ask yourself during this crisis.
In times of crisis, especially one like the
COVID 19 crisis, where anxiety is so universal, it's important to ask yourself
certain questions so that you recognise when you might be exhausted and there's
no good answer or solution to a challenge you're facing.
In today's episode, Steli and Hiten talk about
what the concept of a wartime CEO means, why there's no such thing as a
peacetime CEO, the right way to think about this concept and much more.
Time Stamped Show Notes:
00:00 About today's topic.
00:36 Why this topic is important.
02:56 Why this particular crisis is unique.
03:53 Questions to ask when you think you're
tired.
04:50 How we sometimes ask ourselves questions
that don't have an answer.
05:57 Good questions to ask that can be
helpful.
07:54 A question Steli asks his mum now.
10:00 Why Hiten switched to focusing on luck
rather than gratitude.
12:03 The difference between gratitude and
luck.
13:28 How focusing on what you feel lucky about can give you a new perspective on life.
3 Key Points:
I can't tell you why I'm
exhausted.When you go through a time like
this when anxiety is so universal, it's literally in every interaction.We've never had a crisis at this
scale before.
[0:00:00]
Steli Efti: Hey everybody. This is Steli Efti.
[0:00:04]
Hiten Shah: And this is Hiten Shah. Today on The Startup Chat, we're going to talk about good questions to ask yourself during these uncertain times. I think this is a important topic. I will tell you why and get personal, but we always get personal on this anyway. I had a friend text me the other day, text me something of the nature of like, "I don't know, man. I'm just tired today." He was like, "I feel like I'm tired every night." And it's a friend of mine that wouldn't tell anybody else that. I texted him and I'm someone who really wouldn't tell anybody else that either.
[0:00:51]
Steli Efti: Yes. [crosstalk 00:00:52].
[0:00:53]
Hiten Shah: I told him, "You know what? Me too." Then I texted him and this was the night before last, literally very fresh. I texted him last night and I'm like, You know what? I feel the same today as well." He's like, "Yeah, me too. He's someone like you Steli, where I'll tell him anything privately and we'll chit chat publicly sometimes and stuff like that. I understand where he's coming from when he says it to me because there's a lot of... He's just resilient. He's seen lots of different things in the past. Someone like you, right? We just have this common either experiences or way of dealing with the world. I've just been wondering, how do you still... Of course it's okay to feel that, but how do you ask yourself questions to just recognize when you might just be exhausted and there's no good answer. Because I can't tell you why I'm exhausted at night. He can't explain why he is either. There's just a lot going on in the world.
[0:02:18]
Steli Efti: Yeah, it's interesting. It's not just a lot going on in the world in the abstract. I think that when you go through a time like this where anxiety is so universal and uncertainty is so universal, it's literally in every interaction. It's in the hello goodbye. It's even in small interactions that seem harmless and positive. The underlying energy exchange between all humans right now in varying degrees is always, no matter what we're saying, we're also probably communicating, "I'm anxious. I'm stressed. I'm worried. I feel uncertain. I'm not sure what's going to happen next." That, we've just never had that at this scale where almost everybody we interact with feels that, right? And therefore also communicates that verbally or non-verbally with each other all day long and all that is raining onto us and is amplifying those feelings. One thing I just remembered a long time ago, I think I had told you once,