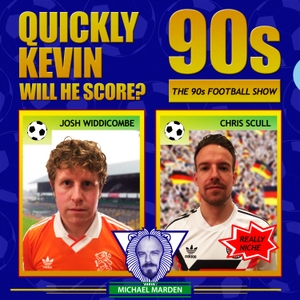 'Quickly Kevin, will he score?' : The Pre-Season Training Camp (Episode 1 - 90's Football Computer Games)
 
Here at 'Quickly Kevin...' towers we're currently gearing up for the release of QK Series 5 by getting match fit with a batch of pre-season episodes we're tentatively calling "THINGS FROM THE 90s WE CAN'T BELIEVE HAVEN'T COME UP YET"
 
We'll be all up in your grill like a John Sitton half time team talk every Monday, Wednesday and Friday for the next three weeks.
So if you want to know what Steve Bruce's favourite film of 1993 was, or what would Lee Sharpe order in Nando's, then not only have you come to the right place but you should also question your life choices.
 
Head over to our Facebook, Twitter and Instagram - @quicklykevin – to get involved and vote for the choices for the next three weeks and be in with a chance of winning some 90's Football goodies.
Twitter: @quicklykevin
Facebook: quicklykevin
Instagram: quicklykevin
Email: [email protected]
 
For your chance to get your hands on an exclusive 'Graham Says: Hit Les' Quickly Kevin mug leave us a 90's Football based 'Review Haiku' on iTunes!! (Or if you're interested in purchasing one of the remaining few then drop us an email at [email protected] )
 
Thanks,
Chris, Josh, and Michael.
 See acast.com/privacy for privacy and opt-out information.