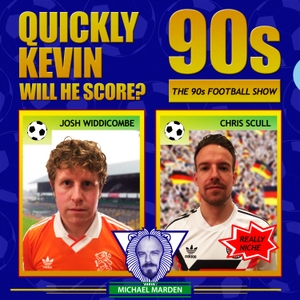 Quickly Kevin - World Cup Special: EP08 (World Cup TV Adverts)
We're building our dream, bespoke Quickly Kevin World Cup from all the component parts of World Cup's from the 90's. Like a Frankenstein's monster nobody asked for. So join us as we look at broadcaster theme songs, favourite players, best mascots, posters, merchandise, kits, and so much more. And yes, we will be discussing in far too much detail which 90's World Cup had the best nets.
Each episode we'll each offer up our choices based on a particular theme, and it's up to you, dear listeners, to jump on the social media band wagon and help us decide. At the end of the tournament we'll reveal the final dream bespoke World Cup and give away some great 90's World Cup prizes to a lucky chosen few who contributed as well. So get on twitter, instagram and Facebook and get voting!!
Sign up to the mailing list to be the first to know about some exciting new QK live event coming VERY soon!
Twitter: @quicklykevin
Facebook:quicklykevin
Instagram: quicklykevin
Email: hello@quicklykevin
Thanks,
Chris, Josh and Michael. For information regarding your data privacy, visit acast.com/privacy