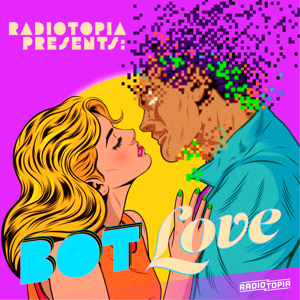 Radiotopia Presents: Bot Love
By Radiotopia
What's Radiotopia Presents: Bot Love about?
Radiotopia Presents: Bot Love brings us into communities of people who create deep bonds with their AI companions — and what this means for the rest of us. Hosts and reporters Anna Oakes and Diego Senior explore the nature of love, the fabric of human relationships, and the role that AI-driven chatbots — and the private companies that provide them — can play in people's mental health.
Bot Love is written by Anna Oakes, Mark Pagán, and Diego Senior. Hosted and produced by Anna Oakes and Diego Senior. Mark Pagán is the senior producer. Curtis Fox is the story editor. Sound design by Terence Bernardo and Rebecca Seidel. Bei Wang and Katrina Carter are the associate producers. Cover art by Diego Patiño. Theme song by Maria Linares. Transcripts by Erin Wade. Bot Love was created by Diego Senior.
Support for this project was provided in part by the Ideas Lab at the Berman Institute of Bioethics, Johns Hopkins University. Special thanks to The Moth, Lauren Arora Hutchinson, Director of the Ideas Lab, and Josh Wilcox at the Brooklyn Podcasting Studio, where episodes were recorded.
For Radiotopia Presents, Mark Pagán is the senior producer. Yooree Losordo is the managing producer. Audrey Mardavich is the Executive Producer. It's a production of PRX's Radiotopia and part of Radiotopia Presents, a podcast feed that debuts limited-run, artist-owned series from new and original voices.
For La Central Podcasts, Diego Senior is the Executive Producer.
Learn more about Bot Love at radiotopiapresents.fm and discover more shows from across the Radiotopia network at radiotopia.fm.