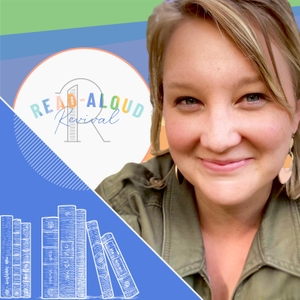 RAR #119: Delighting in Your Own Reading Life, with Anne Bogel
12.31.2018 - By Read-Aloud Revival
Would you like to read more in the new year? I don't mean reading to your kids. I mean reading for you.
Many of us want to read more, but we're not sure how to make that happen. We feel like we can't fit it in, or maybe we even feel guilty when we sit down to read something just for fun.
This episode is just what you need! I'm chatting with Anne Bogel from Modern Mrs. Darcy, author of I'd Rather Be Reading.
In this episode, you'll hear:
why it's OK to prioritize your reading lifehow to read more (hint: we all have a bit more time than we think)why it's just fine to quit a book that is causing a block
Plus, we recommend about 20 books for you ... I mean, of course, right?!
Listener Guide
Use the time stamps below to skip to any part of the podcast:
1:04 Read-Aloud challenge time!2:40 Books for YOU!3:44 Listener Q: Should kids read to me?6:52 Prioritizing your reading life8:31 Anne Bogel is back!10:24 Pick a winner11:51 It is OK to quit12:56 Has Anne ever had a reading slump?14:48 I want to read, but how?18:51 Two types of readers20:10 Bookworm problems21:23 Re-reading25:12 Mysteries27:47 Historical fiction29:25 Page-turners31:06 Beautiful language33:04 Fast books34:41 A series36:32 A classic37:21 Non-fiction39:38 Let the Kids Speak
Links from this episode:
Register for the 31 day Read-Aloud ChallengeModern Mrs. DarcyWhat Should I Read NextRAR #43: Raising Kids Who read, Daniel Willingham
Recommendations by category:
Mysteries:
Sarah: The Lake House by Kate MortonAnne: The Wife, the Maid, and the Mistress by Ariel Lawhon
Historical Fiction:
Sarah: A Fall of Marigolds by Susan MeissnerAnne: Marilla of Green Gables by Sarah McCoy
Page Turners:
Sarah: The False Prince by Jennifer A. NielsenAnne: I'll Be Your Blue Sky by Marisa de los Santos
Books with Beautiful Language:
Sarah: Hannah Coulter by Wendell Berry or Watch With Me by Wendell BerryAnne: Gilead by Marilynne Robinson
Fast Books:
Sarah: Mitten Strings for God by Katrina Kenison and Gift from the Sea by Anne Morrow LindberghAnne: The Quotidian Mysteries by Kathleen Norris
Favorite Series:
Sarah: The No. 1 Ladies Detective Agency by Alexander McCall SmithAnne: Three Pines Mysteries by Louise Penney, starting with Still Life or The Lunar Chronicles by Marissa Meyer, starting with Cinder
Classics:
Sarah: Tremendous Trifles by G.K. ChestertonAnne: Emma by Jane Austen
Non-fiction:
Sarah: Creativity, Inc. by Ed CatmullAnne: You Learn by Living by Eleanor Roosevelt or Inheritance by Dani Shapiro
Quotes to remember:
"For all of the talk about how important it is to help our kids fall in love with reading, if they don't actually see the adults in their lives reading for pleasure then why would they believe us when we talk about the refreshment and joy that reading gives or that reading is a worthwhile thing to do just for the joy of it?" -Sarah Mackenzie
"The important thing to remember before you go looking for great books for you is that a great book means different things to different people." - Anne Bogel
"If you were in a reading slump the single best thing you can do is to set aside a book that's n...