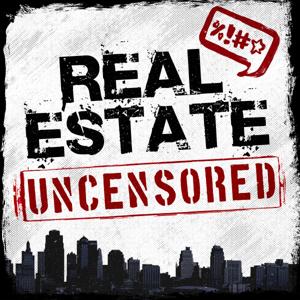 Real Estate Uncensored - Real Estate Sales & Marketing Training Podcast
By Greg McDaniel & Matt Johnson -Learn How To Blend High-Tech & High-Touch Real Estate Marketing
What's Real Estate Uncensored - Real Estate Sales & Marketing Training Podcast about?
Get actionable ideas, insight & inspiration to turn your real estate career into a life of freedom. Real Estate Uncensored delivers 3 live shows/wk showing you how to blend the latest high-tech and high-touch prospecting, sales and marketing strategies to grow your real estate business.
Featuring interviews with mega agents like Joshua Smith, Jeff Cohn, Brett Tanner, Greg Harrelson, Jeff Latham, Kirby Skurat, Aaron Wittenstein, Marti Hampton and many more.
You'll learn how to make 100+ calls/hr, how to use prospecting systems and scripts to sell 500 homes/yr, how to bring homes to market & actually get them sold, how to run high-tech open houses & much more. Co-hosted by Greg McDaniel, the "Junior Grandmaster" / Bay area Realtor, and Matt Johnson, partner in Elite Real Estate Systems / founder of Pursuing Results, a podcast PR + production firm.