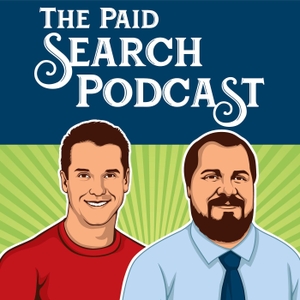 Please support our sponsors because they make the show possible!
Get Opteo for free for two months - https://opteo.com/psp2     
Jason Rothman - https://rothmanppc.com/
Chris Schaeffer - https://www.chrisschaeffer.com/ Show Notes:
In this episode, the guys are answering some questions from listeners about close variants, geo keywords, seeing your clients' ads in the search engine, optimizing for first-page bids, and audience campaigns. 
(2:57) Q: If Google is already showing my ads for close variants of a keyword, what's the benefit of adding it as a keyword inside an ad group?
A: The reason I like to add keywords and not just rely on close variants is that I like the opportunity to make decisions for myself about if this is important to me. There are special opportunities you can take on.  - Chris (8:16) Q: If I'm targeting a specific location and my service keywords are triggering for anyone searching that search term from my chosen location, is there any benefit in adding geo keywords? 
A: 100% yes, you should add geo keywords as their own keywords. - Jason (11:22) Q: I've been having issues getting client ads to show up. I know it's a bad idea to search for client ads, but there are times when I want to physically test something with tracking or just see an ad. 
A: Use the Ad Preview and Diagnosis tool. It simulates a Google result for keywords in specific locations. - Chris
I look at my Google Ads account and through the data, I can see what's happening. - Jason (24:19) Q: I'm only using manual CPC in my campaigns when I see a keyword that is below the first-page bid, I wonder if I should optimize my keywords to be on the first page or not. 
A: The idea of a first-page bid is a misunderstood concept.  It just means you're below the standard for the first-page keyword, so expect lower traffic than if you bid more. I never think about 1st page or 2nd page, I just look at the data.  - Jason (33:40) Q: We were talking with an agency that creates a new campaign for every audience. I would love your input on the pros and cons of doing this. 
A: That is tremendously complex and there are no pros to doing it that way. I have nothing good to share about it. - Chris (38:13) Q: If one of our distributors pays for Google PPC against similar or exact keywords we ourselves are paying for to drive traffic to our website, does that hurt more than it benefits us?
A: Having another advertiser in the auction hurts you, but there will be other products similar to yours out there, so seeing your product through a distributor's ad still gives you double the chance of selling.  - Jason We need your help! Please help us grow the show:
If you don't mind, please leave us a rating and review where you listen to podcasts and share the show with friends because it helps us grow the show and create more content.
 
Send us your questions here - https://paidsearchpodcast.com/contact-us/   
 
First 100 Episodes - https://paidsearchpodcast.com/archive/    Adventures by A Himitsu https://soundcloud.com/a-himitsu
 Creative Commons — Attribution 3.0 Unported— CC BY 3.0
 Free Download / Stream: http://bit.ly/2Pj0MtT
 Music released by Argofox https://youtu.be/8BXNwnxaVQE
 Music promoted by Audio Library https://youtu.be/MkNeIUgNPQ8