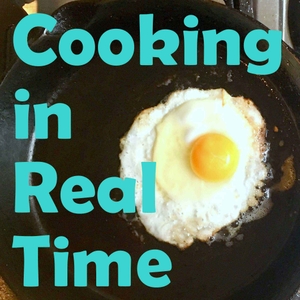 This week, I make a salad that is the perfect summer meal: easy to put together, little heat required, not heavy but still nourishing.
***PLEASE NOTE: Due to some tech problems, the egg boiling in this episode does not happen in real time–I had to cut out about three minutes. So set your own egg timer, and don't rely on the recording. Sorry about this!***
Shopping list
* Lettuce* Grape tomatoes* Green beans * Potatoes (Yukon Gold are good; Red Bliss also work well) * Eggs * Tuna (packed in oil) * Olive oil * Red-wine vinegar * Dijon mustard * Garlic
Salade Nicoise
Summer on a plate.
This French composed salad makes a nourishing summer dinner. The basic ingredients are included here, and you can also add black olives, capers and/or fresh herbs (toss the herbs with the warm potatoes, or mix them into the salad dressing). Don't skimp on quality tuna, however–you definitely want the kind packed in olive oil. For more on boiling eggs, see Episode 4, Perfect Hard-Boiled Eggs. For more on salad dressing, see Quick and Versatile Salad Dressing in Episode 1-2 (scroll down).
For one serving
1 egg
2 or 3 baby potatoes (Yukon Gold or Red Bliss)
3 or 4 large lettuce leaves
Handful grape tomatoes
Handful fresh green beans
Half small can tuna packed in olive oil
For the dressing:
2 tbsp olive oil
1 tbsp red-wine vinegar, or more to taste
1/2 tsp Dijon mustard
1 small clove garlic, crushed
Salt and pepper
Boil the egg according to the directions in Episode 4 (short version: boil 9 minutes). When done, run under cold water and set in a bowl with ice.
Wash your potatoes and cut them into quarters (or more, if they're larger potatoes) and boil in heavily salted water for about 10 minutes, until a potato piece slides easily of a fork. When done, rinse in cold water then drain well.
Rinse lettuce and dry well.
Slice grape tomatoes in half (see note).
Wash and trim green beans, and boil briefly in salted water, until bright green but still crisp, about 1 minute. Drain and run under cold water.
Make salad dressing, following instructions in Episode 2 (short version: shake everything together in a tightly sealed jar). It's a good idea to make more than the amount given here, so you have the extra for future salads later in the week.
Assemble salad: lay out lettuce leaves, then place additional ingredients, including the tuna, around the plate. Keep warm ingredients (egg, potatoes, beans) off the lettuce so the lettuce doesn't wilt. Pour over dressing. You may also want to sprinkle a little salt on the tomatoes, eggs, potatoes and beans.
Note: If you're making enough for two servings of salad, try using the nifty slicing trick I describe in the podcast, which I learned from Saveur magazine back in the day. Take two lids from plastic quart containers (often used for takeout food–at least here in New York). Place one on the cutting board with the rim sticking up, and arrange the tomatoes on the lid.
<a href="https://www.