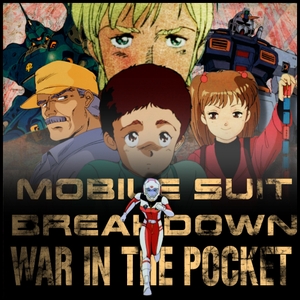 Show Notes
This week, we recap, review, and analyze Mobile Suit Zeta Gundam (機動戦士Ζガンダム) episode 20 - The Heated Escape (灼熱の脱出), discuss our first impressions, and provide commentary and research on the inspiration for the Titan's New Guinea Base, and solid rocket boosters.
- Wikipedia page for New Guinea.
- Google maps link for Lae.
- General New Guinea pre-colonial and colonial history from the official Papua New Guinea travel website, thecommonwealth.org, and the Wikipedia pages for the Territory of Papua and Western New Guinea.
- Additional articles about New Guinea's pre-colonial and colonial history:
The Economist. Papua New Guinea's incredible linguistic diversity. July 20, 2017. https://www.economist.com/the-economist-explains/2017/07/20/papua-new-guineas-incredible-linguistic-diversity
Quanchi, M. and Robson, J. Historical Dictionary of the Discovery and Exploration of the Pacific Islands, Maryland: Scarecrow (2005).
- Information about New Guinea's pre-history and agricultural revolution:
Harari, Y. N. Sapiens: A brief history of humankind. New York: Harper (2015).
Sack Peter. German New Guinea: a reluctant plantation colony?. In: Journal de la Société des océanistes, n°82-83, tome 42, 1986. Les plantations dans le Pacifique Sud. pp. 109-127. Available at https://doi.org/10.3406/jso.1986.2826
Historical Section of the Foreign Office, Dutch New Guinea and the Molucca Islands. London: H.M. Stationery Office (1920). Available at: https://dl.wdl.org/11918/service/11918.pdf
Pouwer, Jan. "The Colonisation, Decolonisation and Recolonisation of West New Guinea." The Journal of Pacific History, vol. 34, no. 2, 1999, pp. 157–179. JSTOR, .
- Wikipedia pages for various aspects of the Lae Campaign in World War II: the New Guinea campaign as a whole, the Salamaua Lae campaign, and the landing at Nadzab.
- US army newsreels about the Lae campaign. Please be aware that these were made during the war and they both contain frequent uses of exactly the anti-Japanese slur that you would expect.
- About the Free Papua Movement and Indonesian Annexation of West Papua.
- Histories of the Conflict:
https://uca.edu/politicalscience/dadm-project/asiapacific-region/indonesiairian-jaya-1963-present/
Schnabel Albrecht, Gunaratna Rohan. Wars From Within: Understanding And Managing Insurgent Movements. World Scientific (2014).
King, Peter. West Papua & Indonesia Since Suharto: Independence, Autonomy, or Chaos? UNSW (2004).
Belford, Aubrey. "An Indonesian War of 'Unknown Persons'" The International Herald Tribune, Aug. 27, 2011. Available at: https://nyti.ms/2BmIM90.
- Reports on human rights abuses from the conflict:
Brundige et al. Indonesian Human Rights Abuses in West Papua: Application of the Law of Genocide to the History of Indonesian Control. Allard K. Lowenstein International Human Rights Clinic at Yale Law School. Available at: https://law.yale.edu/sites/default/files/documents/pdf/Intellectual_Life/West_Papua_final_report.pdf
Amnesty International. INDONESIA: "DON'T BOTHER, JUST LET HIM DIE": KILLING WITH IMPUNITY IN PAPUA. July 2, 2018. Available at: https://www.amnesty.org/en/documents/asa21/8198/2018/en/.
- About the development of the space shuttle Columbia and its first launch and return.
- History of the space shuttle program.
- NASA overview page for the space shuttle program, with links to more detailed information on the science and history.
- Some great photos of space shuttles before and during launch, during transport, and docked with Mir space station.
- NASA page from before the end of the space shuttle program, with overview, statistics, and a photograph of a shuttle with the different major components labeled.
- Wikipedia pages on solid rocket boosters. This one is very technical - digs into the science of how all the different components work together at different stages, and has good diagrams. This one is more general, and discusses the pros and cons of solid rocket boosters compared to liquid propellant rockets.
- About Newtons (unit of measurement).
- Wikipedia page on reusable launch systems, with additional information about post-space shuttle program projects, especially in the private sector.
You can subscribe to the Mobile Suit Breakdown for free! on fine Podcast services everywhere and on YouTube, follow us on twitter @gundampodcast, check us out at gundampodcast.com, email your questions, comments, and complaints to [email protected]
Mobile Suit Breakdown wouldn't exist without the support of our fans and Patrons! You can join our Patreon to support the podcast and enjoy bonus episodes, extra out-takes, behind-the-scenes photo and video, MSB gear, and much more!
The intro music is WASP by Misha Dioxin, and the outro is Long Way Home by Spinning Ratio, both licensed under Creative Commons CC BY 4.0 license. Both have been edited for length.
Mobile Suit Breakdown provides critical commentary and is protected by the Fair Use clause of the United States Copyright law. Gundam content is copyright and/or trademark of Sunrise Inc., Bandai, Sotsu Agency, or its original creator. Mobile Suit Breakdown is in no way affiliated with or endorsed by Sunrise, Bandai, Sotsu, or any of their subsidiaries, employees, or associates and makes no claim to own Gundam or any of the copyrights or trademarks related to it.
Copyrighted content used in Mobile Suit Breakdown is used in accordance with the Fair Use clause of the United States Copyright law. Any queries should be directed to [email protected]
Find out more at http://gundampodcast.com