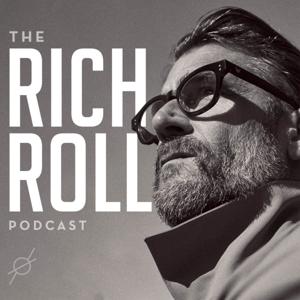 In today's episode, Rich Roll & Adam Skolnick discuss the global effects of the war in Ukraine & the devastating floods in Australia—plus endurance headlines, listener Q's & more.
Topics discussed in today's episode include:The launch of Voicing Change II and the Golden Ticket Sweepstakes—where 6 lucky winners will take home a score of prizes valued over $1,100;Heidi Zuckerman's newest art book Conversations With Artists Volume III;Jesse Itzler's shotgun attempt at Ultraman Arizona on no formal training;The Russian invasion of Ukraine, the towering bravery of the Ukrainian people, and the war's global impact; andThe apocalyptic floods devastating Queensland and New South Wales, Australia's relationship with coal & climate change, and how you can help.
As always, we close things out by taking a few listener questions. Today we answer:How do you talk about addiction and sobriety with your kids?What advice do you have for someone navigating recovery and treatment?How do you maintain a relationship when one partner drinks and the other doesn't?
Today's sponsors:
Blinkist: Try Blinkist FREE for 7 days AND get 25% off a Blinkist Premium membership at blinkist.com/richroll
Daily Harvest: Go to dailyharvest.com/RICHROLLto get up to $40 off your first box.
Indeed: Listeners can get a FREE SEVENTY-FIVE DOLLAR CREDIT to upgrade your job post at indeed.com/RICHROLL. Terms and conditions apply.
Olipop: Receive 20% off plus FREE Shipping on your order at drinkolipop.com/richroll.
ROKA: Visit roka.com and enter code RichRoll for 20% off.
To read more and to peruse the show notes, click here. You can also watch it all go down on YouTube. And as always, the podcast streams wild and free on Apple Podcasts and Spotify.
To grab your copy of Voicing Change Vol. II, visit: https://www.richroll.com/voicing-change-ii/
Peace + Plants, Hosted on Acast. See acast.com/privacy for more information.