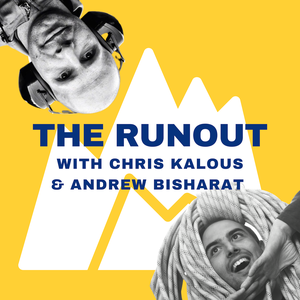 Kicking off our 52nd episode, we sit down with fellow climbing podcaster Steven Dimmit of the Nugget Climbing podcast to talk shop and argue about the limits of this artistic medium. Even though, as a podcaster, Steven puts us to shame in both regularity and frequency, we nevertheless enjoyed chatting about what he's got going on over at the Nugget.
For the main bit, we speak with Chris Kalman, a writer and climber from Flagstaff, Arizona, about his forays into writing climbing fiction. His forthcoming book, "Dammed if You Don't," poses the question what if our efforts to save the places we love ends up destroying them? Is this a work of environmental activism or unrequited psychotic love? You decide.
Rounding out this arcane episode full of "Chris's," our final bit is an op-ed delivered by yet another Chris, whose voice is as strong as his gorilla compression strength is fierce. That would be Chris Schulte, of course, who ponders the question: Just what the F— is going on out there at the crags?
Show notes:
The Nugget Climbing Podcast. https://thenuggetclimbing.com
Chris Kalman Kickstarter: https://www.kickstarter.com/projects/kalman-diyd/dammed-if-you-dont
Chris Schulte on Insta. https://www.instagram.com/chris_schulte/
Become a Rope Gun by supporting us on Patreon! https://www.patreon.com/runoutpodcast
Lead photo: Kalman on El Filo la Aleta de Tiburón in Cochamó. Photo by Austin Siadak http://instagram.com/austin_siadak.