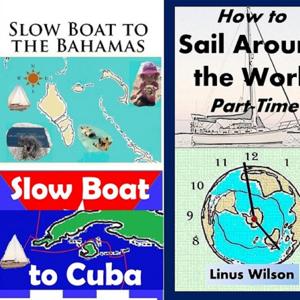 Ep. 27: Sailing Vessel Prism Cruises the Pacific Coast of Mexico and Central America Interviewed by Linus Wilson
09.28.2016 - By Slow Boat Sailing Podcast
In this episode we talk to the John and Shannon from Sailing Vessel Prism. Prism is a 33-foot Hans Christian sailboat. They had sailed from Berkeley, California to Costa Rica when I caught up with them in June 2016. (The Slow Boat was in Panama and the internet was not the best for this interview.)  Support their great videos on Patreon. Shannon and John cruise inexpensively and like to take their time.
John was a professional videographer for TV, and he gives some tips on making great video on our bonus episode for our Patreon supporters.
I also talk about HaveWindWillTravel.com's  video "#75: How to Get Your Wife to Go Cruising". Annie Dike from episode 23 says that her fans ask here that question all the time.
There are many ways to support the podcast in addition to being a patron. We are donating the August and September Patreon revenues to the American Red Cross's Louisiana Flood relief.
Thanks for joining the voyage!  Check out my book How to Sail Around the World Part-Time, which is now available as an album on iTunes or Amazon. Links to my books are at my website. Buy How to Sail Around the World Part-Time or Slow Boat to the Bahamas at Amazon. Both books have been #1 bestsellers in the Amazon sailing eBook categories. (If you are a non-US Amazon customer, e-mail me at linuswilson outlook [dot] com, and I'll send you the link addresses for your country's site.)  Like our Facebook page or follow us on Twitter and tell your friends to do the same. I'm putting up more videos of the Slow Boat crew on YouTube. Also check out my new study guide entitled Navigation Rules: International and Inland (Abridged), Study Guide for Uscg Captains' and Merchant Mariner Exams.  Episode 6's South Pacific Weather with Met Bob has became anAlbum on iTunes. Subscribe to my free newsletter at http://www.slowboatsailing.com for free books and boat repair and upgrade tips.  There you can also find a orange banner link at the bottom of the page and promo code to save $15 off your next purchase of $200+ at West Marine. Write a review on iTunes for the podcast or on Amazon for my books. Finally, have some fun on the water!