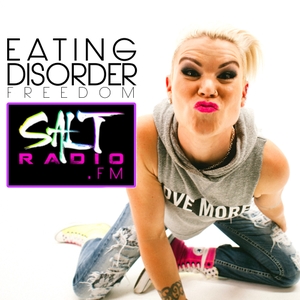 SaltRadio.FM - *Eating Disorder Show*
By SALT ED FREEDOM
What's SaltRadio.FM - *Eating Disorder Show* about?
Yo it's SALT - the founder and creator of SALT ED FREEDOM, a radically empowering, rule-breaking, holistic eating disorder treatment program
SALT ED FREEDOM is designed specifically for brave, rebellious, truth-seeking adult women who crave unshakeable FREEDOM from their secret battles with anorexia, bulimia + binge eating disorders…
It's custom built for women sic of torturing themselves with bingeing, purging, starving, over-exercising, perfectionism, body-hatred, social anxiety and "selling out" on who they really are just to... "impress others".
It's also for women who've been convinced by "treatment professionals" that they are "the problem" and that they need to submit, to be sent away, to be "fixed".
I help them… because I was them… and because I WAS them I know things about eating disorders that no "white coat", textbook trained, "treatment professional" could ever begin to understand or heal.
Women with eating disorders are actually the opposite of the weak, powerless victims that they've been made to believe they are.
I believe that traditional treatment has stripped women of their autonomy, told them that they're opinions are just "ED talking" and forced them to "follow the rules" ... and as a result we've made them feel weak.
But what if we stopped treating them like that! What if we just saw them for who they REALLY are.What if they started seeing themselves for who they really are…
Intelligent, resilient, talented, creative, courageous + intuitive women. Leaders committed to excellence, investigative souls committed to truth-seeking and big-hearted go-givers committed to making a purpose-driven difference in the world.
I see them. I see YOU! Do You see you?
Over the past 5 years I've equipped hard core female athletes, highly sensitive creatives and many other generous + talented go-givers in the world to ditch their eating disorders FOR GOOD and claim unshakeable FREEDOM… just like I have.
Welcome to SaltRadio.FM – we feel privileged that you are spending time with us and we pray that the SALTY TRUTHS you are exposed to on this station will provide you with tools for healing, reinvention and FREEDOM.
Love,
SALT
YouTube: www.SaltEdFreedom.tv
Facebook: facebook.com/SALTEDFREEDOM
Instagram: instagram.com/saltedfreedom
Twitter: twitter.com/salted_freedom
SoundCloud: soundcloud.com/saltedfreedom
Medium: https://medium.com/tag/salt-ed-freedom
SaltRadio.FM - *Eating Disorder Show* episodes: