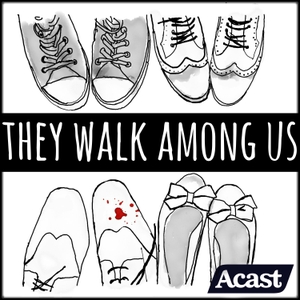 At 8:40 am on the morning of Tuesday, March 19, 2002, Linda Razzell got into her red Ford Escort along with her partner Greg Worrall and three of her four children. She was running late, which was not uncommon (Part 1 of 2).
*** LISTENER CAUTION IS ADVISED AS THIS EPISODE CONTAINS ADULT THEMES AND DESCRIPTIONS THAT SOME LISTENERS MAY FIND DISTRESSING *** 
Complete our listener survey to be in with a chance of winning a copy of our new book 'They Walk Among Us': https://podcastsurvey.typeform.com/to/vrBxnU
COURT DOCUMENTS and information from the following news organisations were referenced in this episode: BBC, SOMERSET LIVE, THE GUARDIAN, INDEPENDENT, ITV NEWS, TELEGRAPH, GAZETTE AND HERALD, SWINDON ADVERTISER, CHARD AND ILMINSTER NEWS, DAILY MAIL, SKY NEWS, THE SUN, THE MIRROR and EXPRESS / SUNDAY EXPRESS.
More information can be found on our website at https://theywalkamonguspodcast.com 
Become a 'Patreon Producer' and get early ad-free access to episodes, and your name in the podcasts credits! Find out more here: https://www.patreon.com/TheyWalkAmongUs 
MUSIC: 
Beginnings Intro by The Tower of Light
Turn by The Tower of Light
Flecks of Light by The Tower of Light
The Dark Glow of the Mountains by Chris Zabriskie
Long Note One by Kevin MacLeod
Descent by Houses of Heaven
Land on the Golden Gate by Chris Zabriskie
Little Drunk Quiet Floats by Puddle of Infinity
Decision by The Tower of Light
All music used under an Attribution License - http://creativecommons.org/licenses/by/4.0/
SOCIAL MEDIA: 
Twitter - https://twitter.com/TWAU_Podcast
Facebook - https://www.facebook.com/theywalkamonguspodcast 
Instagram - https://www.instagram.com/theywalkamonguspodcast 
Acast - https://www.acast.com/theywalkamongus  For information regarding your data privacy, visit acast.com/privacy