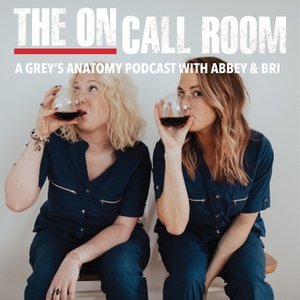 HAPPY HALLOWEEN! What is your favorite spooky snack? Favorite candy bar? Favorite candy? Favorite lunch item in middle school?
This week on The On-Call Room we have another two part episode. Instead of making you wait two weeks, Abbey and Bri decided it would be in everyone's best interest to do one long episode. There are a lot of patients and a lot of shit that goes down.
First of all, Seth Green has a massive wound on his neck that could blow at any moment. Spoiler alert: it blows. Spoiler alert: he dies. Spoiler alert: Lexie DOES NOT HANDLE WELL. Luckily Cristina brings her to Meredith's and they...DANCE IT OUT!
Bailey rises above. Meredith puts herself in danger under an ambulance. Cristina tells off Bailey when she uses her for the color of her skin.
It is an epic jam packed episode and Meredith (not Grey) provides some great insight!
SPONSORS:
www.thisisaday.com
Use code OnCallRoomxADAY to get 20% off your first purchase!
____________________________________________________________
Become a sustaining member and cohost the show! Follow the link below:
www.patreon.com/theoncallroom