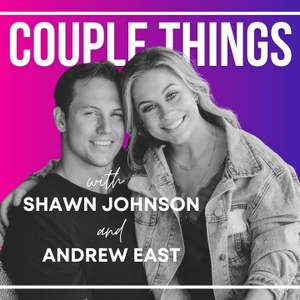 This week we were joined by Shane and Hannah Burcaw, also known as "Squirmy and Grubs." They talked about how to reframe adversity, normalizing their relationship in today's society, having a sense of humor, and discussed misconceptions. We thoroghly enjoyed this special conversation and hope you guys do too!
Here are a few topics that we cover:
0:00 introduction
4:13 how they met
8:37 laughing at my nightmare
11:17 reframing your adversities
12:00 the first date
16:12 misconceptions about their relationship
19:46 hannah and her family's perspective
22:16 approaching dating with the judgments of society
23:25 why they started their YouTube channel
31:32 the mission behind their channel
32:01 upcoming book
33:34 how to talk about our differences without amplifying them
39:09 rethinking behind the word "inspiration"
44:15 helpful language to learn
47:33 honeymoon and upcoming projects
50:47 best advice you've been given or would give
You can follow them on Instagram here ▶ https://www.instagram.com/shaneburcaw/ & https://www.instagram.com/hannahayl/
Their YouTube Channel here ▶ https://www.youtube.com/c/SquirmyandGrubs
ANDD....WE ARE GOING ON TOUR!! Check out the link below to see if we are coming to a city near you in 2022!
Click here to get your tickets now ▶ https://www.couplethingspod.com/
We are sponsored by these companies that we love. Check them out below:
SlingTV ▶ Go to SlingTV.com/EASTFAM to sign up now and get your first month for just $10!
If you haven't yet, please rate Couple Things and subscribe to hear more. Follow us on Instagram to keep the conversation going at https://www.instagram.com/couplething...
And if you have suggestions/recommendations for the show, send us your ideas in a video format – we might just choose yours! Email us at [email protected]
Subscribe for more! http://bit.ly/3rnOdNo
Follow My Instagram ▶ http://www.instagram.com/ShawnJohnson
Like the Facebook page! ▶ http://www.facebook.com/ShawnJohnson
Follow My Twitter ▶ http://www.twitter.com/ShawnJohnson
Snapchat! ▶ @ShawneyJ
Follow AndrewsTwitter ▶ http://www.twitter.com/AndrewDEast
Follow My Instagram ▶ http://www.instagram.com/AndrewDEast
Like the Facebook page! ▶ http://www.facebook.com/AndrewDEast
Snapchat! ▶ @AndrewDEast
Learn more about your ad choices. Visit megaphone.fm/adchoices